Meet the speaker: Matthew Murphy, NS Health Authority
Now, we are less than a month away from Technology & AI LIVE event, Shaping the Future of Technology & AI, we take a look at the speakers we have lined up
In Brief
Name: Matthew Murphy
Company: Nova Scotia Health Authority
Position: Chief Data Officer
Year joined: 2015
Attending: 23rd and 24th June
Keynote topic: Can You Really Build a Culture of Analytics? (Yes, You Can)
Panel topic: Data and Analytics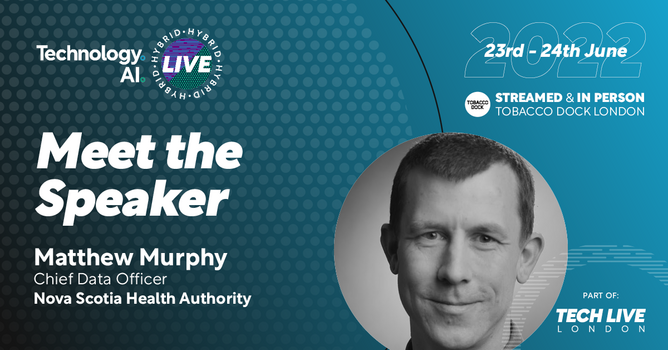 Who is Nova Scotia Health Authority's Matthew Murphy?
Matthew Murphy is the Chief Data Officer and Senior Director of Performance, Analytics and Accountability for the Nova Scotia Health Authority. He is a Certified Health Executive with the Canadian College of Health Leaders and an EXTRA Fellow with Healthcare Excellence Canada.
Murphy has spent the last 5 years creating a culture of data-driven decision-making throughout the Nova Scotian healthcare ecosystem and has succeeded in integrating a shared vision of analytics across the healthcare system and its key government partners.
Commenting on the upcoming event, Murphy said: "Pretty excited about this opportunity to highlight all the wonderful work underway at NS Health in the world of analytics, tech and AI."
During our event, Murphy will be taking part in a panel discussion with David Semach, Partner and EMEA Head of AI and Automation at Infosys as well as his own keynote speech: Can You Really Build a Culture of Analytics? (Yes, You Can).
Technology & AI LIVE: Shaping the Future of Technology & AI.
This year, sister publications Technology Magazine and AI Magazine are heading back to the Tobacco Dock (London, UK) to host Technology & AI LIVE: Shaping the Future of Technology & AI, part of TECH LIVE London.
The two-day hybrid event will be held on the 23rd and 24th of June 2022, in-person and broadcast live via Brella, our fully interactive virtual platform.
Whether you choose to attend in person to get the most out of the valuable networking and learning opportunities or want to join the action virtually through our live streams, you'll have the chance to submit your own questions to the speakers and panel sessions through the Brella app.
At BizClik, we have a number of standalone brands to focus on certain areas in more detail, and that is exactly what you can expect from the four zones we are setting up for attendees.
To attend in-person or virtually for Technology & AI LIVE: Shaping the Future of Technology & AI, click here.