Meet the speaker: IBM's Global CDO, Inderpal Bhandari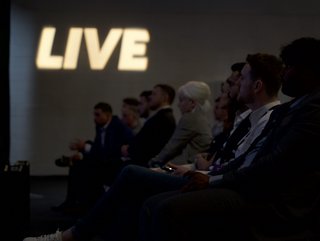 Now, we are less than a month away from Technology & AI LIVE event, Shaping the Future of Technology & AI, we take a look at the speakers we have lined up
In Brief
Name: Inderpal Bhandari
Company: IBM
Position: Global Chief Data Officer
Year joined: 2015
Attending: 23rd June
Keynote topic: Accelerating Digital Transformation with Data and AI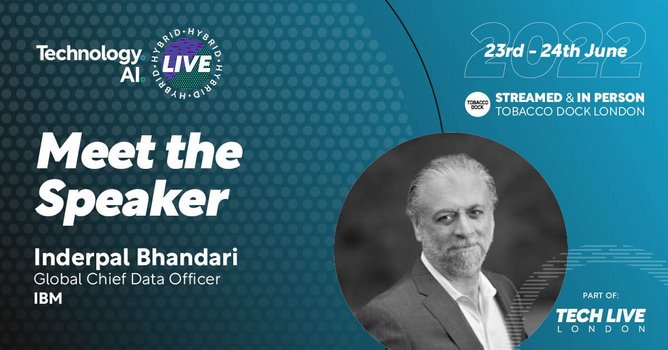 Who is IBM's Inderpal Bhandari?
Inderpal Bhandari is the IBM Global Chief Data Officer, where he has leveraged his extensive experience to lead IBM's data strategy to ensure IBM remains the number one AI and hybrid cloud provider for the enterprise.
Under his leadership, the Cognitive Enterprise Blueprint was created, a roadmap for IBM's clients on their own transformation journeys.
Bhandari brings to IBM more than 20 years of experience in leadership roles at such leading companies as Cambia Health Solutions and Express Scripts/Medco Health Solutions.
Prior to joining IBM, Bhandari served as Senior Vice President and Chief Data Officer of Cambia Health Solutions where he led the development of Cambia's data strategy and drove the transformation of the company's consumer experience strategies.
The Chief Data Officer also served as Vice President of Knowledge Solutions and Chief Data Officer at Express Scripts/Medco Health Solutions, where he was responsible for maximising the utility of the company's data and its readiness to respond to emerging market trends.
Before that, Bhandari founded Virtual Gold, growing the company into an international market leader for analytics in call centres and professional sports.
With over 20 years of experience, Bhandari has become an expert in transforming data into business value and improved customer experiences by delivering strategic, innovative capabilities that use analytic insights to enable growth and productivity.
In 2017, Bhandari was named U.S. Chief Data Officer of the Year by the CDO Club and has been featured as an industry expert by Wall Street Journal, Washington Post, US News & World Report, CNN and FOX.
Bhandari earned his Master of Science Degree in Electrical & Computer Engineering from the University of Massachusetts and holds a PhD in Electrical & Computer Engineering from Carnegie Mellon University.
Technology & AI LIVE: Shaping the Future of Technology & AI.
This year, sister publications Technology Magazine and AI Magazine are heading back to the Tobacco Dock (London, UK) to host Technology & AI LIVE: Shaping the Future of Technology & AI, part of TECH LIVE London.
The two-day hybrid event will be held on the 23rd and 24th of June 2022, in-person and broadcast live via Brella, our fully interactive virtual platform.
To attend in-person or virtually for Technology & AI LIVE: Shaping the Future of Technology & AI, click here.