How leaders can take advantage of third-party data lakes
By Sharon Einstein, VP in Customer Engagement Analytics at NICE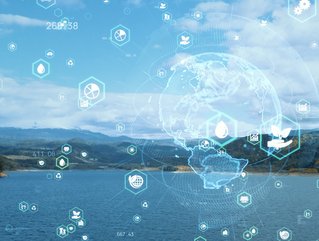 Sharon Einstein, VP in Customer Engagement Analytics at NICE shares how data leaders should be taking advantage of data lakes for customer experience
The average company is seeing the volume of their data growing at a rate that exceeds 50% per year, managing an average of 33 unique data sources used for analysis, according to Aberdeen research. It's easy to imagine the complexity that businesses need to face to manage and analyse multiple types of data especially when this comes from different sources. Data is everywhere and we generate it constantly. Every time we book a hotel, a flight, call our bank or buy a meal on a delivery platform, we are generating it. As data grows and diversifies, many businesses are finding that traditional methods of managing information are becoming outdated.
Data management has experienced a complex evolution: it started with local storage and evolved towards data warehouses until getting to today's data lake concept which improves capabilities for companies to store, manage and analyse the growing amount of data generated each day. The data lake concept was conceived to help bring a common understanding of the benefits of handling multiple types of data, in their native formats, with a high degree of flexibility and scalability. The aim is to exploit the potential of newer and more diverse data types, but also to help make legacy systems more efficient.
By relying on sophisticated data lake infrastructure, organisations can exploit the influx of new data types using existing legacy data systems by merging them together into a single system. Consequently, data teams can move faster as they are able to use data without needing to access multiple platforms. They have the most complete and up-to-date data available for data science, machine learning, and business analytics projects while translating analytics into substantial ROI in the form of business growth and profit boost. All kinds of enterprises can benefit from managing and analysing such an amount of data, however, many organisations, especially SMEs, due to their size, often don't generate enough data to gain tangible insights. The solution lies in leveraging vendors' external data lakes in a scalable, cost-efficient way and knowing how to make good use of it.
How Artificial Intelligence (AI) helps tackle huge datasets
Data lakes represent a huge, disorganised source of data, especially when talking about cloud third-party vendor data lakes, which makes it difficult for companies to navigate them. AI and Machine Learning (ML) can organise all the information stored and cut data preparation timelines so that human-related tasks are reduced. This frees up employees to work on data modelling and optimisation, namely the areas with measurable business impact.
Even better, many vendors embed their own AI to make sense of the mass of data found in the data lake. They then offer interfaces for the insights that answer the business' questions and serve them in a way that even non-tech savvy people can understand.
Data are key to an excellent Customer Experience
One area where businesses may not be creating enough data internally is in customer experience (CX). CX data is invaluable – it can help you identify churn, up-sell opportunities or simply keep a highly engaged and happy customer base. However, many businesses may not have the number of individual contacts to produce enough data for useful AI-based analytics. Leveraging third-party data lake houses allow companies to take advantage of third-party structured and unstructured data in a cost-effective way. And reap the business benefits therein. After-all low volume of CX interactions does not mean the ones, you have are low value. CX software vendors own a volume of data – voice calls, chats and interactions – substantially larger than an individual business and this is how businesses can take advantage of millions of customer calls being analysed rather than, say, a thousand over the course of a year.
This allows businesses to run sentiment analysis on data stored in the data lake. Enterprises can integrate AI tools to find out if chat users are usually happier than customers who use phone support, or if customers are more inclined to send an angry email than an angry text message, and so on. Sentiment analysis technology can sift through digital customer data from contacts and determine the CX quality. Vendor data lakes bring together and anonymise customer, agent, and interaction data from digital and voice channels. It allows customers to easily adopt AI - with pre-built models that are natively embedded into applications – to transform their business and improve their customer's experience.
When businesses have access to such a huge amount of data and when they integrate AI to leverage it, they can see a competitive advantage, responsiveness and understanding of customers, increased, and this is because data can be easily interpreted by AI systems. For instance, this way, agents can rely on objective measurement of customer sentiment and behaviours during the interaction, rather than relying on subjective behavioural analysis. Businesses can have a clear view of sentiment analysis and insights into their preferences. AI-enabled sentiment analysis can rapidly sift through digital customer data from contacts and determine the CX quality.
Using third-party cloud services, organisations can rely on shared data produced from triangulations between partner data and stored information. As these are easily and constantly updated on the cloud, these companies have the chance to leverage an incredible, constantly updated data basin, without the need for spending time and resources to analyse data sources while saving costs. Cloud computing gives businesses access to billions of interactions which, in the context, of customer service, creates a smart self-service that actually works. Businesses can orchestrate perfect journeys and hyper-personalised interactions to increase customer loyalty.