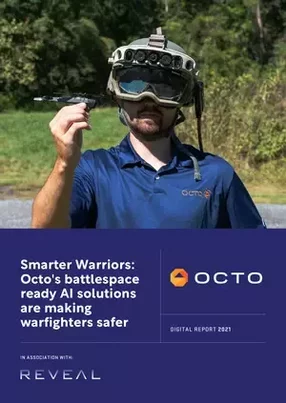 Smarter Warriors: Octo's battlespace ready AI solutions are
Octo is committed to developing sophisticated military technology for use from mission planning to execution to make soldiers safer and more effective.
Although Rob Albritton has had an exceptionally varied journey which has taken him all over the world, it appears his path was preordained, leading to his current role as a Senior Director at digital modernisation and tech innovators, Octo. And what a journey it has been.
Having left high school with limited options, he started his career in the US Air Force in 2000, working at a base in Nebraska for four years, and gaining an exceptional knowledge of the military's highly complex infrastructure in the process. 
Needing a departure from the military's unrelenting rules and stifling structure, however, he then attended the University of Maryland, earning a degree in geography and GIS. He followed that up by embarking on an internship which introduced him to the intelligence community at the National Geospatial Intelligence Agency (NGA) in Springfield, Virginia.
"That is where my interest in defence technology was truly sparked," remembers Rob. "I was working with special operations forces on the African continent and became really interested in the sophisticated technologies they were using." 
Inspired by his findings, he went to work for the army and spent eight years building geospatially-enabled and machine learning-enabled mission planning tools for US Army Special Forces and other special mission units. 
Although he was inspired to make things happen in this arena, Rob became disillusioned by government bureaucracy – irritating blocks that were preventing eminently usable life-saving tech from getting to the frontline. Rob reflects: "There was too much red tape to get through and too many hurdles to jump over. I was trying to get technology – which myself and other engineers had developed – into the hands of the women and men defending this nation and our allies, but we simply couldn't get it to the battlefield quickly enough."
Consequently, Rob left the federal government to work at Nvidia – the world's biggest artificial intelligence company – where he embarked on a crash course in artificial intelligence (AI). He quickly realised that this brand of silicon valley tech should be used in war zones.
Following a further excursion to MITRE, where he worked on tactical AI emerging from the Pentagon, Rob joined Octo, inspired by its galvanising vision. "Here was a company with almost no strings attached," Rob enthuses. "I was invited to combine state-of-the-art AI technologies, with my extensive knowledge of the war fighter, and use them as a force for good in the world. They wanted to develop and field some of these technologies as rapidly as possible and I thought, 'Oh my God, this is the place I have to be.'"
Shades of grey
They have a curious saying at Octo – 'innovate in the grey'. It's part of who they are and it's ingrained throughout their culture. "That's a term that our SOF brethren at Fort Bragg, and in San Diego would understand," insists Rob. "It means to 'walk that line'. To do things legally, ethically, and morally, but be willing to push the system as far as possible to make things happen for the right reasons. It's an accelerant mindset." 
"We come to work and innovate in the grey. We follow the rules, but we aren't bound by them. Where we can, we push the boundaries to deliver technology to the war fighter. That's what drives us."
In order to completely subscribe to this extraordinary philosophy, Octo has formed a world class team of operators and technical personnel that work within its oLabs facility, an R&D hub that is home to Octo's five Centres of Excellence of which Rob's AI CoE is one. Many of them are veterans that have been on multiple tours of duty and know, more than most, how vital it is to have the very best technologies on the battlefield and saving lives. 
These ex-military employees work with an ensemble of AI luminaries and technology pioneers to form a formidable foundation of expertise. They, in turn, collectively partner with current military personnel to devise and build the beneficial real-world technologies America's elite military units need and benefit from.
Octo builds its technologies during intense periods of research and development in its groundbreaking oLabs before striving to get them out in the field, acquired by the Department of Defence or taken up by the wider intelligence community. 
Established targets
Octo's 'Hatteras project' is a Machine Learning Operations (MLOps) platform.
Machine Learning models aren't static. Their performance degrades in inference mode at various rates and for various reasons. 
Rob explains: "Hatteras is designed not only to make data preparation and model training simple but also to monitor model performance in operational environments. On the battlefield, it's critical that troops have the ability to monitor performance of the ML models they're using to enhance in-mission situational awareness. A poorly performing model could mean life or death on the battlefield."
Octo is also playing an important role in the development of IVAS – Integrated Visual Augmentation System – which is being rolled out at Fort Belvoir, Virginia for the US Army. This multi-billion dollar programme takes a Microsoft HoloLens augmented reality goggle and militarises it, adding new sensing capabilities and microsensors, turning it into a goggle that can be used for training, mission rehearsal and fighting. It's a typical piece of oLabs customisation – taking existing tech and rebooting it for military action.
"We build tracking algorithms for targets of interest in nano drones and tactical drone video," says Rob. "Then we're able to feed that information into the IVAS goggles and the heads-up display that the soldier is wearing, thereby giving them 360 degree situational awareness; making them not only more lethal, but more survivable, ultimately bringing more of them home safely. This is a concept we call the 'omniscient soldier.'"
Algorithm of life
The company has several other primary tactical AI projects which are at a critical stage of development. One is CX Surge, Octo's AI, ML, and mixed reality (MR) fusion solution for locating targets of interest and rendering the targets in an intuitive mixed reality interface that limits cognitive load on the operator.  
CX Surge leverages computer vision to deliver nearly 360 situational awareness, offers a unique approach to monitoring events on the ground, and enables users to virtually "see through" buildings, walls, and solid structures by displaying critical detections to Android Team Awareness Kit, IVAS, or HoloLens, and night vision goggles.
Another focuses on ensemble modelling methods. Octo can currently run machine learning models or AI algorithms on multiple modalities off a single platform. "That enables us to get better results and superior accuracy in our models," notes Rob. "When we're doing target detection, for example, and we're looking for a specific military target of interest, we can run our model on RGB data or other thermal modalities at the same time." 
The third project is CX Edge – a tactical AI brain.  CX Edge is an AI platform designed to run on low size, weight, power, and cost (SWaP-C) hardware. It enables tactical teams to collect, analyze, and distribute mission critical data in real time on handheld devices. CX Edge enhances situational awareness and shortens targeting timelines increasing mission effectiveness and safety in the most challenging conditions. Designed for tactical units and teams without access to robust networks or enterprise cloud resources, CX Edge uses the power of AI to employ innovative compute and data management capabilities at the tactical edge.  
"CX Edge is also about managing the massive amount of data that will be generated by AI and ML as it proliferates the battlefield. The US Department of Defense is not prepared to manage the onslaught of AI generated data they will encounter over the next few years. This is especially true at the tactical edge – that's why we build CX Edge. Small, disconnected teams need the ability to manage massive AI generated data and intelligently push it out to the right end user device. They also need the ability to federate data back to the enterprise when they regain connectivity. That's CX Edge!"
Changing landscape
Partnerships are critical to the success of Octo and its oLabs operation. Indeed, the rapid prototyping innovation centre it's building in Reston, Virginia will be dependent on yielding many successful partnerships. 
oLabs enabled us to prototype AI and ML enabled tactical applications on our 15 petaFLOP supercomputer and walk down the hall where we can test them in our own close quarters battle (CQB) facility. There aren't many, if any, places in the defence ecosystem that can provide our government customers and partners all of these technologies and capabilities under one roof."
Octo has already teamed up with big hitters such as Dataiku, Dell, Reveal Technology, and Tomahawk Robotics to produce its pioneering military tech. "We've really created a coalition like-minded organisations who are completely focused on pushing boundaries, innovating in the grey, to deliver mission capability," says Rob.
Another product which has emerged from the industrious oLabs is CX Terrain – used to visualise 3D data and carry out 3D mission planning in an augmented reality. "It allows mission planning to unfold anywhere in the world," explains Rob. "It means an individual in Virginia can see the same mission plan and 3D data in their heads-up display than someone in Europe, Afghanistan or Iraq simultaneously."
Meanwhile, climate change is also having an impact on the way in which Octo and oLabs deploy technologies. Clusters of GPUs that make up a supercomputer, or high performance computing capability, require a lot of energy. This has prompted Octo to consider how its technologies are powered and to run fewer servers rather than thousands, without losing computational prowess. It's another example of the company's continual focus on future-proofing.
Living on the edge
Ultimately, Octo, lives and breathes its mission on a daily basis and Rob knows many military men and women operating on the ground, and this provides an additional incentive to keep pushing the boundaries and keep exploring the grey areas of innovation. 
"We still have really close ties," he says. "Knowing that tech like CX Edge, computer vision capabilities and our AI models are being used to bring troops home safe is immensely rewarding. Making military personnel more lethal is very cool, but making them more survivable is just as cool, if not cooler."
"Knowing that we're impacting those people, the actual boots on the ground, every single day, is certainly the most rewarding aspect of working at Octo. We work at a company that encourages a close working relationship with our government and military counterparts, because it's all about building long-term relationships, impacting the mission and bringing the war fighter home safely. That will always be our priority."
And that is what sets Octo apart – the ability to place humanity over revenue. It's all about the numbers of lives they help save rather than the number of dollars the company is worth. 
This is the stark symbiosis that defines oLabs – an enduring relationship between the creators of technology and the armies, generals and foot soldiers using them. It is a bond built on trust and a bond which is reinforced every time Octo develops its latest military tech; it's latest life-preserving solution.