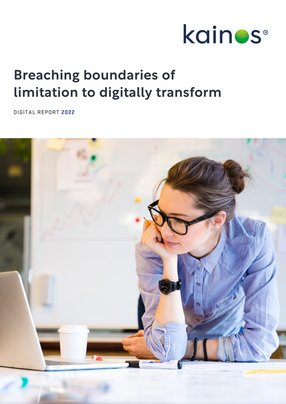 Kainos: Breaching boundaries of limitation
Russell Sloan, Director of Digital Services, explains how Kainos has developed a unique mindset that embraces any digital challenge
Kainos takes pride in combining the disruptive power of technology with the courageous ambition of their people, to create a better world for all.
It's a bold statement, but considering the scale of the projects they have undertaken already – which include working with the UK Government, the NHS and the digital transformation of FS&I organisations – they aren't afraid to challenge themselves, the organisations they partner with, or the communities and industries they operate within. It's all about preparing for what comes next.
With 12 years of consecutive revenue and profit growth for Kainos, the workforce also experienced strong growth over recent years with staff numbers nearing 2700, as of March 2022.
Transformative Digital Services
To help deliver these transformative solutions, that encompass a range of services from experience design to artificial intelligence, intelligent automation and cloud, Director of Digital Services, Russell Sloan, leads one of Kainos' two specialist business units (the other a dedicated Workday Practice), providing full lifecycle development and support of customised digital services. The goal is to deliver truly intelligent solutions that are secure, scalable, accessible and cost-effective.
Having joined Kainos in 1999 as a software engineer, Sloan has since enjoyed a dynamic career path, having held roles as a team leader, manager, and Head of Application Support.
Core to his role is leading Digital Services on the back of the work that GDS (Government Digital Service) were doing inside the UK government, including developing the Government Digital Strategy, which set out how the government should become digital by default in 2012.
In 2013, Sloan was made responsible for developing public sector business for Kainos – the largest and fastest growing area of activity in the company – alongside the aforementioned UK government's ambitious and challenging 'digital-by-default' initiative.
Sloan now leads a team of over 1,400 staff, delivering digital transformation for government, healthcare and commercial sector organisations across the UK, Ireland, Europe and North America. A diversified business, 37% of Kainos work sits within the public sector, 41% in the commercial sector and 22% in healthcare.
On top of this, he is responsible for setting the strategic direction of the Digital Services business unit and developing long-term relationships through ongoing positive engagement.
Sloan and Kainos know that the key to helping customers solve their biggest technological challenges is maintaining a continuously engaged and well developed team, which creates sustainable and predictable growth and a culture
of innovation.
The Workday Practice
The Workday Practice is the other core pillar of the business, with Kainos taking £384mn of the global addressable automated testing market in 2021 with its Smart Test solution (a winner at the 2022 Workday Partner Innovation Awards).
Back in 2011, Kainos started to formulate a new strategy and developed a relationship with the disruptive cloud-based ERP, Workday, as an early-stage partner (now one of just 37 globally).
Since then, Kainos has been helping organisations worldwide to deploy, test, optimise, audit and support their Workday platforms. An approved Workday Service, Software and Extend partner, Kainos has now made its mark as the only three-time Workday partner in the global ecosystem.
Since Smart Test was launched almost a decade ago, Kainos has brought further Workday solutions to the market; including Smart Audit, an automated risk and compliance tool. Customers include global household names such as Netflix, Match.com, Shopify and Capital One.
As one of their longest serving partners, Kainos is a major part of a high-growth market with Workday, Inc. remaining on track to achieve US$10bn revenue by 2026, up from US$5.1bn in 2022.
A commitment to people
From the company's origins through to the present day, the mentality at Kainos has remained the same: only hiring the highest quality graduates and, crucially, great people. Sloan himself joined as a graduate – as did CEO Brendan Mooney.
"We've always looked at bringing in entry level talent, whether it be graduates, apprentices, or through our skills academies. We like to find the best talent and there is a very strong ethos around staff development at all levels. We also supplement that by bringing in experienced hires in the right areas.
Kainos is dedicated to developing its people, providing everything needed for them to blossom to their full potential.
"As a company, we mainly provide digital services to businesses. We run the company on three principles: Be a great employer. Delight customers. And be a growing, profitable and responsible company," he says.
It's all about consistency of message at Kainos, as Sloan explains: "When we look at our feedback from our staff surveys, there are very strong thoughts about helping each other, working very closely within teams and being really committed to what we're doing.
"We win interesting work and we deliver well to achieve or exceed the intended outcomes."
When Kainos IPOed on the London stock exchange in 2015, this was their start on the road to entering the FTSE 250, which they have now achieved successfully.
Sloan cites the example of their project with HMPO, digitising UK passport applications, as the type of project that has contributed to their recent business growth.
"If you wanted to renew your passport in the UK, you had to go to the post office and pick up a long paper form – in fact, most people picked up two or three forms because they generally made a mistake. Once you completed your paper form, then you would send that by post to process your application, and you would you would receive a passport within 6 weeks. Actually, about a third of the applications were returned without a passport because there was still a mistake.
"We digitised that journey. Now the user can process that all online – a much better user experience. Nearly 90% of passport applications are processed this way now and the service has won multiple awards. That's a good example of the type of projects we would do at a national scale in the UK. Our national services impact in excess of 60 million people," says Sloan.
In the Digital Services' space, clients include the likes of Genomics England, Land Regristry (HMLR) and the Driver & Vehicle Standards Agency (DVSA), all of which Kainos highlight in their interim and annual report presentations.
Another major project delivered by Kainos was for the UK Government Department for Environment, Food and Rural Affairs, alongside Microsoft. Kainos helped deliver critical services for the UK's exit from the EU to safeguard vital industries, UK economy and trade, while advancing future digital trade systems. The programme surpassed customer, trade, end-user and government expectations within an unprecedented timeline of 18 months, when such services usually take years to build.
Major UK projects required a major partner in Microsoft
Microsoft is a partnering organisation, with 22,000 partners in the UK alone. Many Kainos customers already have Microsoft technologies, making them ideal strategic partners when selling into the same marketplaces.
"There's a natural synergy there. They're one of the leading technology companies in the world, so this works from our customer perspective to really push some of the boundaries with our customers," says Sloan.
"Over the last year, we have achieved over 350 certifications with Microsoft. This is important for our own staffs' development and allows them to further their careers.
"If we use the example of the NHS App, this originated from a commitment made by the Secretary of State for Health in the Houses of Parliament that citizens would be able to view their health records through an app.
"We worked collaboratively with NHS Digital and in partnership with Microsoft to develop the NHS App. It was an absolutely 'must deliver' project."
"We're a services business and our reputation is for high quality delivery," says Sloan.
Derrick McCourt is the General Manager of the Customer Success Unit at Microsoft. With the UK government driving towards a cloud-first strategy, Kainos was already very well known to both Microsoft and McCourt, due to their outstanding track record in the public sector.
"We were re-evaluating what the partner of the future would look like and, when we started recruiting a new wave of digital partners, Kainos really stood out.
"In fact, it only took Kainos a short amount of time to become the Microsoft Partner of the Year," says McCourt.
"The partnership has gone from strength to strength. Kainos is now part of our technical advisory councils, so they actually influence product direction for the future. They know the customer's needs intimately and they're able to bring those back into Microsoft and influence our future product road maps."
McCourt also refers to the quality of people Kainos provides for digital transformation journeys, investing heavily in technical skills – including the mutually beneficial Enterprise Skills Initiative – allowing both organisations to increase their diversity.
Speaking further on the connection Kainos has to the customer, McCourt adds: "Kainos is very aligned to our business outcomes for customers, so we know we've got a deeply trusted partner. They can deliver hugely complex cloud projects with a proven track record."
Such complex projects at significant times of change in the UK include the NHS App and applications around the UK's exit from the EU, where strong citizen outcomes require technology platforms to perform faultlessly with strict deadlines.
McCourt sums up the success of the partnership: "The NHS App was an incredible piece of quality collaborative work, which required an application to be surfaced on devices used by millions of people."
Five areas of focus in sustainability
Sloan is particularly passionate about the sustainability goals at Kainos. Within the organisation, there are five areas of focus: climate action, gender equality, quality education, and good health and wellbeing.
With typically only 17% of technology roles undertaken by women, in the first half of the 2021 financial year, 39% of Kainos recruits were female. Equality initiatives are driven and supported by internal staff networks such as Voice (ethnically diverse network), Inspire (women's network) – of which Sloan is the executive sponsor – Xpression (LGBTQ+ network), and the Neurodiversity network.
In summer 2021, Kainos had over 230 young people attend its CodeCamp initiative in the UK and Ireland, designed to improve skills and encourage participants into a career in IT. Similarly, last year, almost 500 young people attended three-day workshops to help inform their career choices.
On specifically climate action, when the UN Agency, the International Organisation for Migration (IOM) came to Kainos, they were experiencing issues with infrastructure: essential services couldn't be delivered; they were starting to experience resiliency issues; and, as an organisation that operates in over 150 countries, they were worried about security.
"Working with Microsoft, we helped the IOM to migrate to the cloud. It's a success story of the services that we provide to the end users and a positive one around the sustainability aspect."
Kainos developed its own IP for the purpose of a carbon calculator, combined with Microsoft's expertise from their own Azure carbon reporting tool.
"We created an algorithm around measuring the level of carbon reduction. If you have an in-house VM (virtual machine) data centre, we look at how the reduction level differs when all that is moved onto the public cloud," he says.
Sloan highlights that this changes the conversation at a CEO-level around the cloud, shifting from one of cost to the availability of service, resilience and security, instead.
Kainos was a carbon-neutral organisation in 2021, where they set scope one, two and three emission reduction goals; their target is to be carbon net-zero by 2025.
Microsoft – themselves aiming to be carbon negative by 2030 and by 2050 – wishes to remove from the environment all the carbon the company has emitted, either directly or by electrical consumption, since they were founded back in 1975.
"If you look at the journey to that commitment, we haven't got all the answers today, so partnership is going to be incredibly important to us. A really important piece of work that Kainos are delivering at the moment is with IOM on sustainability.
"It's a fantastic customer example where they have developed the cloud carbon reduction calculator, delivered the IOM's journey to the cloud and migration of three data centres, and that customer has achieved an estimated 92% reduction in carbon emissions," says McCourt.
Sloan adds that sustainability and carbon emissions are on everybody's agenda, so Kainos wanted to help lead customers to the right answers and give them the digital tools they need for their journey towards decarbonising.
"We'll be seeing some campaigns over this upcoming year using our carbon calculator, and it'll feed into some of our work around cloud strategy and around cloud migration type activities," says Sloan.
Expanding services across the world
According to Sloan, Kainos' digital transformation to date is mainly concentrated in the UK, but one of the big attractions of working with Microsoft is their global reach.
"Kainos has a good global reach with one of the other partners, Workday, where we're a fully global organisation. So, from a digital transformation perspective, we are looking to expand this year into Canada and Germany.
"Microsoft is fully supportive, so I expect to see more in that space, too, as we look further into the future to North America and Central Europe.
"We also have our data and AI practice. Getting services and solutions onto the cloud is the first step, but then what do you do with data? And how does that enable you to make better decisions about your business? Both from just accessing the data and then adding the real intelligence, data science or some of the artificial intelligence in helping them to make some of the more complex decisions.
As a continuation of that process, Kainos has an intelligent automation practice as well. Intelligent automation is a growing area for them, with the digitisation of processes being a huge opportunity for organisations to increase efficiencies and improve employee and customer experience.

Kainos is making big, decisive steps into the future with their dedicated, innovative partners – and it's going to be up to the rest of us to catch up.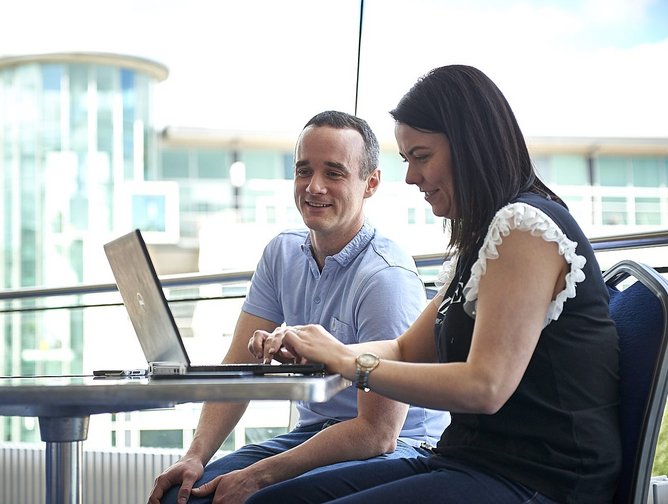 Kainos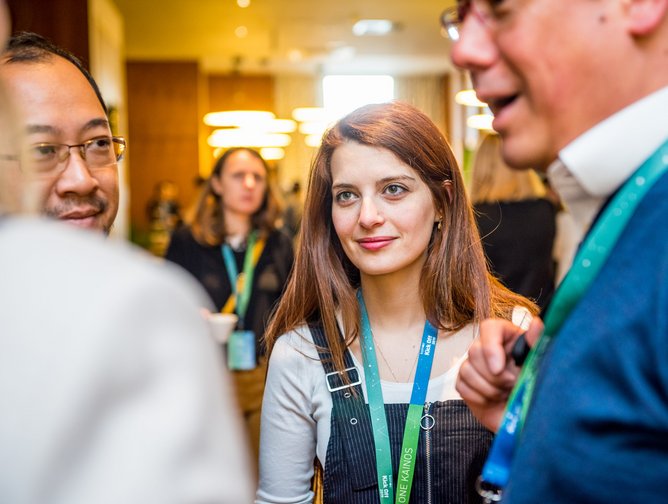 Kainos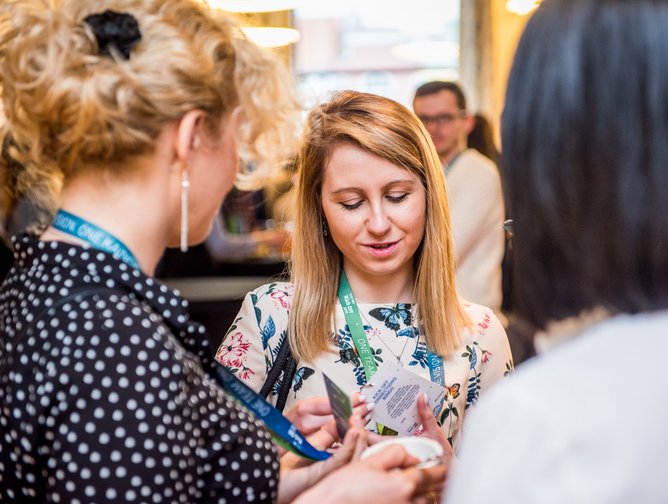 Kainos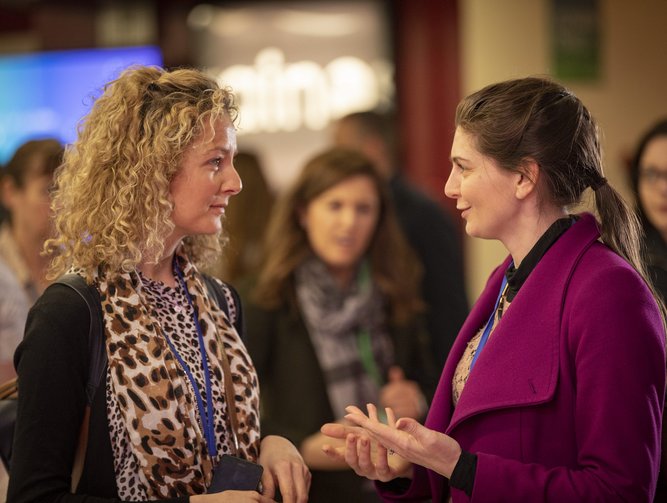 Kainos