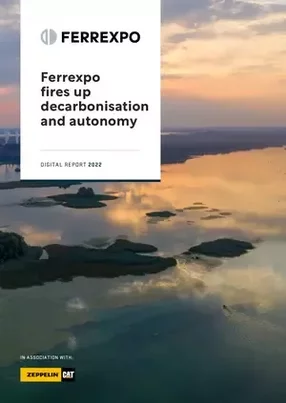 CEO Jim North; firmly focused on decarbonisation & autonomy
Interim CEO Jim North is firmly focused on decarbonisation, renewables expansion and autonomous fleet development
Ferrexpo Interim CEO Jim North's "big three" are probably not that dissimilar from many of his counterparts: growth, decarbonisation and technology. But the fact that we spend the best part of an hour discussing them underlines their vital importance to the iron ore pellet company's overall strategy.
North has been with Ferrexpo for seven years and Interim CEO for the last 18 months. He speaks clearly and in an assured manner, which again is indicative of his focus.
When he was Group COO between 2014 and 2020, operational efficiency and discipline were priorities, but now as CEO, the task is how best to execute the growth strategy for the Swiss-based commodity trading and mining company, listed on the London Stock Exchange, whose operations are in Ukraine; North is actually speaking to me from central Dubai, which seems strangely appropriate too for such an international entity (the Gulf city serves Kiev with two flights a day).
So to growth first. In its half-year results, revenues rose 74% to US$1,353 million, profit after tax came in at $661 million, and pellet production totalled 5.6 million tonnes; the pandemic-defying figures were attributed to a 'multi-year investment programme in our assets'.
North remains humble though. "You never conclude business improvement – there are different rates of implementation," he reflects.
Operations and sustainability are now clearly two sides of the same coin.
Ferrexpo is aiming for 30% reduction in combined Scope 1 and 2 emissions by 2030 and to be carbon neutral by 2050. After achieving 16% and 6% reductions in 2020 and the first half of 2021 respectively, North is confident it will get there "well before" the scheduled date.
"We're well down the path to achieving 30%," he said. "We have no intention of using carbon offsets – we want to do real carbon reduction. We like to be conservative and over deliver. As we progress, you need to put more work in to get smaller gains."
There are substantial amounts of renewables in the Ukrainian grid already but that will only take the company part of the way in addressing Scope 2, so it is targeting more solar and wind. It has trialled a 5MW solar plant, and so far North is happy with the performance. "We want to run it for a period of time to test the seasonal variations before we do more internal investment in renewables."
It is also trialling a small hydrogen test plant, and initially use it to replace natural gas in one of four pelletiser lines. Construction and commissioning will start by the end of next year.
Green hydrogen, for Ferrexpo, has two uses: as a gas replacement in the pelletisation process, and ultimately to provide an alternative power source for mining auxiliary fleet.
"In terms of the overall renewables strategy, there has to be a blend. It isn't cost effective to use hydrogen for power generation.
"We don't want to take on significant tranches of debt. The commodity price will determine the rate of implementation."
Electrification and energy efficiency are increasingly key subjects, especially as its fleet of 86 trucks is forecast to grow to 134 units. It has set a deadline for the first diesel engine replacement by 2025-2027, though no manufacturer has been selected yet, and he said the "expectation" is that its primary mining fleet will decarbonise by 2032.
Meeting its own emission targets is just one element in the sustainable equation, and there are many uncertainties in the wider steel industry.
"We recognise that steel industry will significantly need to reduce carbon inputs to meet their obligations. We're seeing car manufacturers under pressure to have carbon-free steel by 2030, which will be tough – 2040 to 2045 may be more feasible."

He said the bigger question is how are steelmakers going to fund the transition from traditional blast furnace technology to processes with reduced carbon inputs?
"China has invested a lot in traditional steelmaking processes over the last 20 years – for them to scrap all that, and implement direct reduction processes, would be a significant cost. I don't understand how European steelmakers are going to fund decarbonisation – that's going to be multiple billions of dollars. Ultimately the cost of this transition will be passed onto the end consumer and steel will be more expensive, but it's clear it's needed."
Autonomous focus drives digital growth
Autonomy is an increasingly core focus within fleet development, and currently six trucks (CAT-793, 220 tons) are self-driving.
"We broke the project into two phases, the first is six trucks, the second is nine. We're holding off the deployment of the further nine until we've operated the six for a significant period," he said.
"Transitioning from a manned operation to autonomous is not just a case of buying the technology, bolting it onto the truck and letting them go. It's about learning to live with autonomy. The computer doesn't have any judgement – it will only do what you tell it to do."
Productivity is very important, and using robotics is going to play an increasingly key role. He said it is thinking about implementing robotics in its future mining labs.
"As we expand our business, we need to add lab and analysis capacity, and robotics is well advanced in these areas."
With pellets firing at 1,400 degrees, AI is also being courted to measure variability in off-gases to manage process variation.
"That will be a significant advantage for us in future. AI can manage more variables than a traditional control room operator."
He doesn't envisage that jobs will go in the new digital age, more that skills will evolve.
"We employ 12 surveyors who are 'autonomous road builders' mapping the routes – that's a role that didn't exist before autonomy. We also have more network engineers in our business now to manage the communication networks – and if you'd said to me 10 years ago we'd have a team of drone pilots today, I wouldn't have believed you."