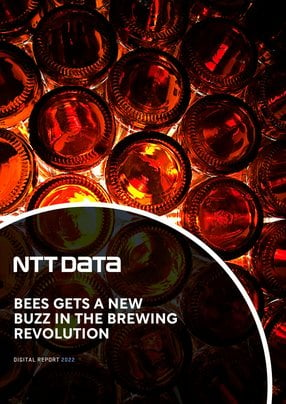 BEES GETS A NEW BUZZ IN THE BREWING REVOLUTION
Beer giant AB-InBev joined forces with NTT DATA and Microsoft to put even the most remote beer retailers in the picture
When it comes to enjoying a beer,not all countries and palettes are the same. Managing the vast range of wants and needs of the beer drinkers across the globe presented almost insurmountable challenges to even the biggest brewing conglomerates. Not anymore. Beverage giant AB-InBev has joined forces with NTT Data and Microsoft to put even the most remote beer retailers in the picture
Three generations ago the great English writer, George Orwell suggested the people of the world could be defined by the way they liked to drink their beer. Some things never change.
Here in the allegedly sophisticated, technology driven 21st Century First World we are used to an almost inexhaustible range of hops, barley and yeast-based beverages — delivered in a mind-boggling variety of ways.
Across Europe computerized Key Kegs can blast out fresh craft beer under pressure from plastic drums, through valves and tubes and into pristine, sparkling glasses, newly washed in digitally programmed machines. In the UK, beer drinkers are still partial to pumps and taps attached to wooden barrels. Ironically, in this modern age even beer in a can is making a comeback.
But take a trip across the Caribbean, or to Latin America or South Africa and you are a world away from Orwell's Moon Under Water public house.
In this part of the world, they drink their beer out of bottles: Ice cold bottles, from ice cold coolers containing ice cold beer. It's been this way forever. The hotter the region, the colder they like their beer. Brazilians alone glug their way through more than twelve billion litres of beer from coolers annually.
But unlike most 'Western leaning' countries, the majority of this beer is bought from small retailers or in small bars which often double as the local — and only — shop. Keeping an accurate check on sales and stock and ensuring these small retailers are maximizing returns on their turnover presents a huge challenge.
The market leader in these regions — the multinational drinks group AB-InBev — has found a way to revolutionize its sales and refresh its supply chain in these parts other beers find hard to reach.
In Europe and the US, we recognize the company's leading brands Budweiser, Corona and Stella Artois. In the Caribbean it's Presidente and in Brazil: Skol, Brahma and Antarctica dominate. AB-InBev was formed following the acquisition of American brewer Anheuser-Busch by Belgian-Brazilian brewer InBev, which itself came into being after a merger between AmBev and Interbrew. So, put simply. This is a big global company.
However, being big and dominant does not mean one approach to the market fits all. The Caribbean, South America and South Africa have unique challenges.
This is where the workers at BEES come in. BEES is the e-commerce platform for Ab-InBev. Ricardo Padula, Product Lead - BEES Force explains how the latest image recognition technology, supply chain analytics and algorithms are now being used to bring the beer maker's more 'out of the way' retailers into the 21st Century — without upsetting their well-established beer drinking culture. This is all thanks to a new technology called BEES Force.
"BEES is a B2B platform we have created to help our sales staff interact in the most efficient way possible with our small and medium sized retailers," says Padula.
But as Padula explains, once BEES got past the proof of concept for a new Image Recognition solution, it was clear it had the potential to totally change the way his company interacted with its retailers. This was not just a technological rethink. The potential of the technology meant Ab-InBev — through the BEES Force system — was able to completely overhaul the way it treated and incentivized its sales teams and its retailers.
"BEES Force was designed to help our retailers buy beer from us, get it delivered and then sell it efficiently and effectively from the coolers in their premises," he says. "But it also gave us an opportunity to re-purpose the sales model.
"This technology has enabled us to turn our sales staff from order taking reps to consultants with a mine of data at their disposal to improve, streamline and enhance the sales process and maximize returns for the retailer. We now call our former salespeople Business development Representatives (BDRs).'
So, how is this concept groundbreaking and technologically advanced? Padua explains:
"We had to ask what technology we needed to address the specific challenges we faced with retailers in these regions. We needed to re-invent the supply chain and the way we monitored it from a retailer and consumer (beer drinker) angle.
"We wanted to give our BDR's the tools to help our retailers' businesses grow; to sell more products, to sell more beer and effectively thrive. Once we decided to do that it started a whole change management process. It was a huge transformation for the company and the future of the sales."
BEES had to ask itself what technology was needed to allow the new BDR to effectively run their own teams. BEES Force was born and would be with them all the way through the sales process. Padua is a Star Wars fan; in case you hadn't guessed.
BEES Force technology uses image recognition via the retailer's mobile phone.
"We are able to use this to analyse the coolers, the way the shelves are arranged, and the pricing being used by our retailers," says Padula. "We can then ensure everything is presented to the customer — in near real time — to make the products the most attractive in the market."
Ironically, despite the digital intervention, the pricing is displayed on printed posters in these outlets. So, the cost to the consumer of a bottle of President or Skol is written by hand by the retailer after consultation with his or her BDR.
This may sound incredibly simple but, as Padula explains, this image recognition mixed with remote consultancy for the retailer has solved one of the biggest problems Ab-InBev had with its sales process in these countries.
"This was one of our biggest problems in the past which, until this technology came along, we were never able to solve. We never had a trustable way to audit our stock accurately — until now."
"In a nutshell, we take pictures, and they will recognize what's going on inside the cooler and on the shelves and in the local advertising and we can say 'okay this Point of Consumption (retailer) is doing well'…or not."
Building this software, proving the concept, and getting it into the marketplace was not down to the efforts of BEES alone. This was a three-way project.
Running in the background is Microsoft providing components of your solution architecture, and joining its software to the BEES front end is NTT Data, who is responsible for implementing the Data Engineering and AI solutions across the entire BEES Force technology environment.
NTT Data is a consultancy, which provides technology services. It's skill set includes working in a 'Big Data' environment, developing advanced analytics with AI services. For BEES NTT's providing Image recognition and data visualization solutions was vital.
NTT's team working with BEES is its Data & Analytics Director, Daniela Santana Griecco and its Data Science Lead, Carlos Porto Filho.
"We were responsible for defining and implementing the Proof of Concept for BEES and the big challenge was to propose an Image Recognition solution for the entire BEES Force platform", says Daniela.
"In just three weeks the results were incredible, because it not only matched but exceeded the initial acceptance criteria, surprising the executive board for its innovation and ability to scale the solution."
Daniela says the importance of keeping the operation running with quality and efficiency, increased user adoption to BEES Force platform. "Nowadays, after performing this Proof of concept, we are also responsible for evolving the solution in other countries for BEES and establishing the entire operation to support those countries where the solution is already implemented.
"BEES is a fantastic use case for us to become a reference, not only in Analytics, but also in Digital Transformation solutions. "
One of the ways NTT helped BEES was by developing Planogram.
"So, you have this cooler with products inside," says Filho. "Then the retailers use a mobile phone to take pictures. Then our technology can validate or invalidate several things from posters, as we said, to the way the beers are arranged and displayed. This s is the Planogram
"Using image recognition, ensures the retailers are presenting the products in the correct way to maximize sales."
Jean Brant from Microsoft says "by using Azure Custom Vision, a cognitive service from our platform, it was possible to establish an image recognition solution adaptable to the different needs of any region of the world which greatly facilitates the process of scaling the solution to other countries."
Ricardo Padula says he cannot sing the praises of NTT and Microsoft enough in how they helped deliver this project.
"I'm not a technical person but working with Carlos and the rest of the team enabled us to use Optical Character Recognition (OCR) to identify not only prices but a whole host of elements which need to be right to maximize sales," he says.
"It may sound simple, but no one ever did this in the past. We struggled in the past for more than five years trying to recognise images, but we have never had success before. We even thought we'd have to employ the CIA or the FBI to achieve this."
"Now, with NTT and Microsoft we have a huge amount of data collected from the field to do thousands of pieces of analysis to really add value to the customer and retailer experience. "
"Projects like this are perfect for highlighting the real possibilities of Artificial Intelligence in transforming our customers' businesses. AI is not just a technological hype that one day will pass like many others, AI is an extremely powerful tool to deliver better experiences to our customers, be more efficient internally and consequently more competitive. ABInbev gives us an excellent example of how we should be disruptive, using the best that technology has to offer." says Evandro Armelin, Head of Data & Analytics Latam from NTT Data.
The synergy between the three groups was key in ensuring the project was executed correctly and the culture of the Ab-InBev sales teams and its retailers was fully understood to ensure a successful implementation.
Frederico De Marchi from Microsoft explains: "We immediately had a connection, a cultural match, when Ricardo introduced our team and gave us the Bees Force challenge. It is a good example of how we apply our mission to empower every person and organization on the planet to achieve more. We say we don't want to be cool, we want to make our customers cool.' An appropriate choice of words given cold beer served from a cooler is at the heart of this project."