TimeAI Summit Oct 2023 to unite tech giants and visionaries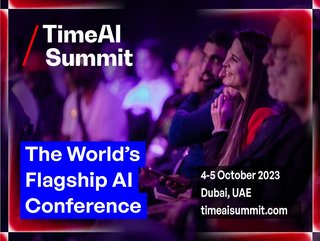 With AI having emerged as the driving force behind transformative technologies in the twenty-first century so far, its impact is undeniable
The highly anticipated TimeAI Summit aims to revolutionise the AI landscape by bringing together global leaders, pioneering tech companies and visionaries
The TimeAI Summit is aiming to bring together tech giants and visionaries in Dubai to work together to shape the future of AI.
In efforts to embrace the next era of innovation, this event will take place on 4-5th October 2023, at the prestigious Le Meridien Dubai Hotel & Conference Centre and offer a platform for knowledge exchange, collaboration and cutting-edge advancements in AI.
With AI having emerged as the driving force behind transformative technologies in the twenty-first century so far, its impact is undeniable. It is now viewed by many businesses that AI is now a necessity to have in order to thrive in an ever-evolving digital world.
Importance of AI: Why digital innovation matters
The potential of AI to analyse vast datasets, recognise patterns and make intelligent decisions has no doubt revolutionised industries and improved lives globally. It operates in a wide range of industries, from healthcare and finance to transportation and education.
The Summit views Dubai as having a visionary approach to AI, as it has fast become an AI hub and testing ground for cutting-edge technologies.
With the United Arab Emirates' forward-thinking approach to AI adoption having positioned the nation as a global leader in the AI revolution, hosting the TimeAI Summit in Dubai suggests a dedication to fostering collaboration and driving progress within the tech industries.
The Time AI Summit is excited to offer plenty of inspiring speakers and captivating sessions from around the world. AI experts and thought leaders will share their insights, expertise and visions for the future of AI across various sectors.
Attendees can look forward to engaging keynotes, thought-provoking panel discussions and interactive workshops that will shed light on the latest AI trends, innovations and real-world applications and use cases.
Notable Speakers Include:
The event is also aiming to provide a platform for attendees to connect with like-minded individuals, potential partners, investors and clients. Networking sessions will aim to foster collaborations and spark new insights, as well as working to propel AI towards future innovation.
Ultimately, the TimeAI Summit stands as an opportunity for leaders to stay at the forefront of digital transformation. The event's international representation and extensive media coverage aim to make it a pivotal moment for AI enthusiasts, industry leaders and entrepreneurs alike.
For more information about the TimeAI Summit and to secure your participation, please visit the below links:
Tickets: https://timeaisummit.com/tickets
Sponsorships: https://timeaisummit.com/why-sponsor
Discounted Hotel Booking: https://timeaisummit.com/venue