Tech LIVE Virtual: What to expect on 8th June 2023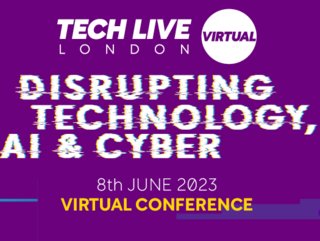 Innovators are paving the way for a more resilient, sustainable and efficient future. The rules have changed. At Tech LIVE Virtual it's time for DISRUPTION
​​​​​​​Tech LIVE is returning for 2023, taking place on the 8th June in a virtual event highlighting the innovators changing and disrupting the technology industry. Featuring expert keynote speakers to interactive fireside and panel discussions, this exclusive one-day virtual event – brought to you by Bizclik – is an essential deep dive into the disruption and the future of Technology, AI and Cyber.
Tech LIVE Virtual - what you need to know ahead of the virtual event
Live-streamed to a global audience from 10:25am-2pm BST, Tech LIVE Virtual will consist of 12 keynote presentations across two live streams, including lively panel discussions from leading experts and influencers in the technology industry.
We will be discussing the biggest topics that are impacting the global technology industry, including:
The AI Revolution
Quantum Computing
Cybersecurity & IoT
VR & the Virtual Workplace
Blockchain
Technology's Place in Sustainability
Register for your free ticket(s)
Networking at the technology, AI and cyber event
Even in the virtual sphere, the show presents extensive networking opportunities.
The data centre and cloud conference will take place in our virtual venue, which is located on Brella. As the world's leading virtual event platform, Brella is built to foster engagement and interactions between participants.
From easy-to-watch content to match-made 1:1 meetings, Brella's AI-powered matchmaking technology reduces the friction many attendees face when attending events by recommending connections based on a user's profile.
So, through Brella's intelligent networking software, attendees can maximise their time and make valuable connections, seamlessly.
Get your free event ticket
Secure your tickets, link the not-to-miss event to your 2023 calendar, and join the crucial discussions taking place on our virtual stages on 8th June 2023.
It's time to change the rules of the game. It's time for DISRUPTION.
For sponsorship enquiries, click here.