Partnership aims to bring AI-generated art to all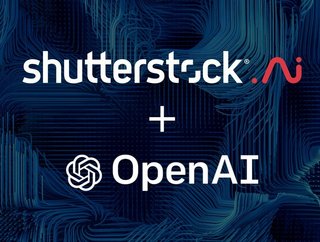 OpenAI's text-to-image model DALL-E 2 will be directly integrated into Shutterstock, with human artists to be "compensated" in a bid to avoid controversy
Stock photography company Shutterstock, Inc has unveiled a plan to launch AI-generated content as part of its partnership with OpenAI.
The company announced in a press statement this week that the AI lab's text-to-image model DALL-E 2 will be directly integrated into Shutterstock in the "near future".
"The mediums to express creativity are constantly evolving and expanding. We recognise that it is our great responsibility to embrace this evolution and to ensure that the generative technology that drives innovation is grounded in ethical practices," said Paul Hennessy, Chief Executive Officer at Shutterstock.
"We have a long history of integrating AI into every part of our business. This expert-level competency makes Shutterstock the ideal partner to help our creative community navigate this new technology. And we're committed to developing best practices and experiences to deliver on our purpose, which is to empower the world to create with confidence."
Seamless integration with AI image generation
This collaboration introduces OpenAI's seamless image generation capabilities to Shutterstock audiences worldwide — offering customers the ability to instantly generate images based upon the criteria they type in.
"The data we licensed from Shutterstock was critical to the training of DALL-E," said Sam Altman, OpenAI's CEO. "We're excited for Shutterstock to offer DALL-E images to its customers as one of the first deployments through our API, and we look forward to future collaborations as artificial intelligence becomes an integral part of artists' creative workflows."
According to a press statement by Shutterstock, on release customers will receive direct access to these AI image generation capabilities improving their creative workflows. In turn, Shutterstock contributors will be compensated for the role their content played in the development of this technology.
"Shutterstock believes that AI-generated content is the cumulative effort of its contributing artists," the statement said. "In an effort to create a new industry standard and unlock new revenue streams for the company's artist community, Shutterstock has also created the framework to provide additional compensation for artists whose works have contributed to develop the AI models."
Human contributors to be 'compensated'
Contributors whose work was used to train the models will receive a share of royalties from AI sales, said the Shutterstock spokesperson, but they didn't say what percentage of revenue would go to contributors or how the contributions would be divided.
To safeguard the interest of the existing creators, Shutterstock says it plans to launch a 'Contributor Fund, which would reimburse the creator whose work is sold to train the text-to-image AI models.
"In an important effort to protect the IP rights of its artists, photographers, and creators, Shutterstock continues to lead in developing policy and procedures, and employs methods to ensure that usage rights and proper licenses are secured for all featured content -- including AI-generated content," the Shutterstock statement read.
The announcement follows Microsoft's announcement of its AI-powered Image Creator tool, which is powered by DALL∙E 2 by OpenAI, in what it describes as a limited preview in select markets.
According to a blog on Microsoft's website, Image Creator allows users to create an image that doesn't exist, limited "only by their imagination".
"Simply type in a description of something, any additional context like location or activity, and an art style, and Image Creator will make it for you," the blog reads.