Los Angeles Chargers find conversational AI is on the ball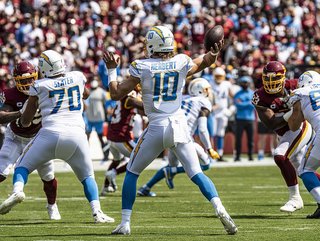 A Los Angeles-based conversational AI company has talked its way into a partnership with the city's national football league team, the Chargers
US football team the Los Angeles Chargers has partnered with a conversational AI company to take artificial intelligence into the locker room.
MeetKai - also based in Los Angeles - has been tasked with creating fresh, engaging experiences using conversational AI and other new technologies. As the "Official AI partner" of the Los Angeles Chargers, MeetKai and the team will work together to develop new in-stadium and at-home experiences, say the two companies, including an AI-based locker room tour.
"Having developed a reputation for being at the forefront of the sports digital media space, we're thrilled to partner with a technology leader like MeetKai," says A.G. Spanos, Chargers President of Business Operations. "As tech continues to become an increasingly integral part of the world of professional football, the opportunity to leverage MeetKai's advanced AI to connect and engage with Chargers fans all over the world, both physically and virtually, is incredibly exciting."
Now in their 64th season and a charter member of the American Football League, the Chargers franchise was established in Los Angeles in 1960 and was based in the Los Angeles Memorial Coliseum during its first year.
From 1961 to 2016, the team played in San Diego and advanced to five of the first six AFL Championship games ever played. The Chargers claimed the 1963 AFL title and later joined the National Football League when the two leagues merged in 1970. Since the merger, the Chargers have gone on to appear in Super Bowl XXIX and have captured an additional 10 division titles.
The Chargers were purchased by construction leader, philanthropist and real estate developer Alex G. Spanos in 1984 and have been under the guidance of Spanos' eldest son Dean, the team's current Chairman of the Board, since 1994. Dean Spanos' sons – A.G. Spanos, President of Business Operations, and John Spanos, President of Football Operations – oversee the day-to-day operations of the franchise.
The Chargers will now be able to utilise MeetKai's technology including advanced AI which can process natural conversation and personalise search results, services already used by more than 50 million users worldwide.
"As a Los Angeles-based company, we couldn't be more excited to team up with our hometown Chargers to provide futuristic experiences for the team and fans everywhere," says James Kaplan, MeetKai CEO and Co-Founder. "This partnership marks the beginning of a new kind of NFL fan experience that MeetKai is very happy to ignite."