Infosys and Roland-Garros serve up AI tennis experiences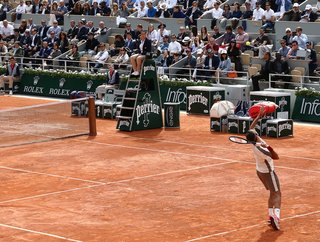 Infosys innovations, powered by cloud, AI, mixed reality, and data & analytics will take fan engagement to a whole new level
Marking its fifth-year milestone, the partnership continues to push the boundaries of digital innovations to propel the game into the future
Infosys, a global leader in next-generation digital services and consulting, and the French Tennis Federation (FFT) have today revealed new innovations that will continue their partnership to transform and power the game in novel, smarter more immersive ways. The innovations, powered by cloud, AI, mixed reality, and data & analytics will take fan engagement to a whole new level while continuing to empower players, coaches, media, tournament organizers, and the community.
"Now in its fifth year, this partnership continues to help transform and propel the sport forwards, for the better," Sumit Virmani, EVP and Chief Marketing Officer, Infosys, said. "Several new innovations this year have been powered by Infosys Topaz and bring an AI-first approach to reimagine the RG tournament in fresh new ways for fans, media and crucially players, leaning on the sport's heritage while powering and inspiring future generations.
Fan Engagement – Powered by Mixed Reality (XR) and AI-enabled motion analysis
Fans can practice and measure their serving skills just like the pros at the all-new Infosys x Wilson Smash Corner at Roland Garros. Using high-tech cameras, Infosys technologies will record and superimpose individual's serves on Court Philippe-Chatrier, just as if they were serving on the main court. The participant will also be provided tailored serve analysis and feedback on their posture and performance to enhance their technique, enabling access to pro-level analysis for every fan.
In addition, Infosys will continue to drive the enhancements to existing Match Center features as well as powering the RG Fantasy Game. The Infosys Tennis Virtual Reality Experience will place fans at the center of a virtual game and give them the opportunity to take part in matches against the game's best.
Media Enablement – A New Excitement Rating tool
A new analytical feature has been added to Infosys' AI-Assisted Journalism tool, to help media track and report from the court to fans at home. An insight-driven tool that is designed to help journalists report accurately on the tournament, this AI powered feature picks up on multiple factors such as match length and crowd noise in the stadium to rate the levels of excitement and tension surrounding the game, bringing fans across the globe closer to the action and atmosphere.
Player Performance – An AI powered tool to drive performance advantage
AI videos, an advanced match strategy tool deployed by Infosys in 2019 at RG has been further enhanced with new innovations such as player tendencies, which analyses efficacy of their first and second serves and their returns to provide an accurate correlation between their reactive tendencies and win rate. Another new feature launched is 'Get in the zone' where AI curates custom video playlists and loads all the winning trends against specific opponents to positively influence the players mindset pre-match.
Community Engagement – Inspiring the next generation
Building on the success of last year's STEM program, powered by Infosys' Springboard, Infosys and the FFT will be providing a unique two-day program aimed at children with a passion for science, technology, and tennis to inspire students to explore the interplay between sport and STEM.
Tournament Heritage – Unveiling the Yannick Noah Room at the 3D Art Museum
The Infosys Roland-Garros 3D Art Museum, a dedicated digital space to the 130-year tournament heritage, is unveiling the Yannick Noah Room that marks the 40-year anniversary of Yannick Noah's historic Grand Slam win in 1983. Bringing culture, sport and technology together, the room will consist of 3D immersive exhibits, a video wall and an all-new AR experience that lets visitors re-live Noah's winning point in an augmented reality experience.
"We are truly excited with the potential of technology-powered transformative progress that continues to make Roland Garros amongst the most exciting grand slams for the billion fans of the sport around the world," added Virmani.
Amélie Mauresmo, Tournament Director Roland-Garros, added: "Infosys has amplified the reach of the tournament over the past five years, while adding real value to everyone in the game. As Digital Innovation Partner, their focus on taking the game into new dimensions while preserving the culture heritage of Roland-Garros with digital platforms has helped us engage deeper with those on and beyond the court in a meaningful way. We will continue to find avenues to make the tournament more iconic and innovative with technology."
The tournament runs from 28th May 2023 to 11th June 2022. To experience the latest digital innovations, visit Roland-Garros.com.
For more information on the partnership visit: Infosys.com/Roland-Garros.