AI & skills: Fictiv's '2023 State of Manufacturing Report'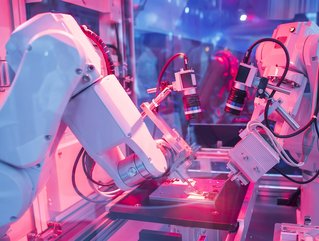 AI in manufacturing
Fictiv's CEO Dave Evans discusses skilled engineering talent, sustainable manufacturing & AI's role in 'Fictiv's 2023 State of Manufacturing Report'
Custom manufacturer Fictiv has released its 2023 State of Manufacturing report.

The report found that manufacturing industry leaders have high hopes, as well as concerns, for the role technology and AI will soon play within their organisations.

State of Manufacturing: AI technology and sustainable manufacturing
Fictive was founded in 2013 and is headquartered in San Francisco, USA. In May 2020, Fictiv announced that it raised US$15mn in Series B funding, led by Sinovation Ventures, with firms such as Accel, Intel Capital, FJ Labs and Tandon Group all contributing.

Since that year, the company has been releasing annual 'State of Manufacturing' reports.
This year, labour shortages, the role of AI and increasing skilled engineering talent in the sector were subjects discussed.
Fictiv surveyed more than 240 leaders across engineering, manufacturing and product development, to identify key trends and insights.
Findings included details on AI technology's role:
97% of these leaders expect AI to impact product development, as well as manufacturing
85% have either made plans to adopt AI technologies, or have already done so
Workforce productivity and upskilling were another large part of the conversation.
62% of the leaders are enhancing their staffs skills and productivity
97% believe in the future, a shortage of mechanical engineering talent will hit businesses.
For business leaders overall, improving manufacturing and supply chain visibility was the top business priority for 55% of those questioned.
For small companies, 52% said they were working towards improving customer experience and satisfaction, while 45% said reducing operational inefficiencies was their main goal.
Manufacturers are excited for AI & skilled engineering talent
Fictiv CEO, Dave Evans, is looking forward to seeing the changes that will be made in the manufacturing sector with AI.
"Over the last three years, we've seen a steady increase in manufacturing leaders investing in digital technologies to inject much-needed visibility, agility and resilience into their manufacturing and supply chain management workflows.

"In 2023, however, the growing gap around skilled engineering talent has reached a tipping point.
"So when you pair this trend with the explosive emergence of AI in the last six months, there is a clear opportunity to leverage AI to solve this urgent shortage and help companies reach their goal of faster new product development in the hardware space.

"These are exciting times and we should expect to see major changes in the way manufacturing companies operate in order to drive productivity and efficiency gains."