Drones replace warehouse workers to stop supply chain chaos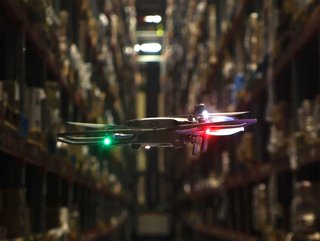 Off-the-shelf autonomous drones have been paired with artificial intelligence software to solve a US$150 billion problem plaguing post-Covid supply chains
Supply chain robotics company Gather AI has landed a $10 million Series A financing round for its work with autonomous warehouse drones powered by artificial intelligence.
Gather AI says an estimated US$150 billion is currently lost every year as a result of the problem of misplaced inventory, which they hope to solve with off-the-shelf drones paired with artificial intelligence software.
This funding will be used to develop the company's market strategy and continue work on its real-time inventory visibility platform, says Gather AI. The financing round was led by Tribeca Venture Partners, with participation from existing investors Xplorer Capital, Dundee Venture Capital, Expa, Bling Capital, XRC Labs and 99 Tartans.
The COVID-19 pandemic had an enormous impact on the supply chain, says Gather AI, which led to a 55 per cent boom in e-commerce which in turn caused dramatic supply chain shocks. This upheaval has caused typical warehouses to misplace around 10 per cent of inventory - worth US$10 million on average - and ongoing lack of inventory visibility is causing supply chain facilities to lose up to US$1 million per month, says Gather AI.
The company's platform combines drones with machine learning software developed by experts in deep learning and robotics. Gather AI's drones fly autonomously using software that enables them to navigate warehouses without the aid of GPS or changes to building infrastructure or processes such as lighting, WiFi or labelling.
AI-powered drones mean humans can focus on skilled work
The company's machine learning engine enables the drones to detect and aggregate data like box damage, case counting, volumetric estimation, text reading, and inventory of palletised goods. Gather AI says its drones collect data 15 times faster than human counters, with the ability to read over 95 per cent of labels and barcodes, minimising the work for human counters. This allows humans to focus on upskilled tasks such as inventory planning, management, and accurate inventory reporting, says the company.
"The supply chain issues making headlines less than a year ago put a spotlight on challenges that the logistics industry has been trying to address for the last two decades - how to effectively manage operations to maximise revenue and efficiency, all while minimising frustrations that come with labour shortages," says Gather AI Co-Founder Sankalp Arora. "The reality is, the majority of warehouses have access to technology that is from before the e-commerce boom, which has exacerbated the struggle to keep up with the changes in both industry demands and customer habits."
Gather AI was co-founded by Carnegie Mellon's Robotics Institute graduate students Arora, Co-founder & Machine Learning Scientist Dr. Daniel Maturana, and Co-founder & Robotics Engineer Geetesh Dubey.
"By utilising commercially-available drones, Gather AI has lowered cost and complexity for warehouses to adopt sophisticated and much-needed automated inventory technology," says Chip Meakem, Co-Founder and Managing Partner of Tribeca Venture Partners. "Whether it's a large-scale multi-warehouse operation or a single facility, Gather AI is solving a pressing need in a massive market that touches everyone from consumers to major manufacturers suffering on the production line due to supply chain issues."
Arora previously developed safety and sensor planning for the world's first safe autonomous helicopter, while Maturana has worked on computer vision, machine learning and robotics, and Dubey has developed autonomous robotics for the past 12 years, during which time he led the development of India's first autonomous military vehicle.
"Gather's founding team's unique blend of robotics and software expertise is creating a new breed of robotics companies that are driving value by delivering AI-driven software solutions via highly-reliable off-the-shelf hardware – in this case, drones. We're excited to help the team scale up to meet its current influx of demand," says Meakem.