Davos experts say ChatGPT will speak for all global business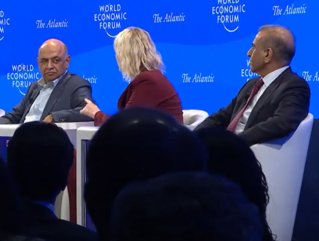 Panellists at the Technology for a More Resilient World session at Davos discussed tech trends and developments, including talk about conversational AI
OpenAI's ChatGPT and other large language models currently in the works will become a normal part of business, IBM Chairman CEO Arvind Krishna predicted at the World Economic Forum's annual meeting in Davos.
Leaders in the technology industry gathered at the annual meeting this week to discuss the future of technology and its potential to create a cleaner, safer, and more inclusive world.
The Technology for a More Resilient World session featured a panel of experts, including Nicholas Thompson, CEO of The Atlantic; Sunil Bharti Mittal, Chairman of Bharti Enterprises; Julie Sweet, Chair and CEO of Accenture; Cristiano Amon, President and CEO of Qualcomm; and IBM's Krishna.
The panellists discussed future trends and developments in technology, including the metaverse, smart glasses, and large language models, and how these technologies will shape the world in the coming years. They also discussed the strategic opportunities for technology to accelerate progress and its potential impact on the next generation.
They emphasised that technology can be a vital tool in creating a cleaner, safer, and more inclusive world but stressed the importance of considering the potential implications and ethical considerations of these emerging technologies. As technology continues to evolve rapidly, it is crucial for leaders to stay informed and take a proactive approach to address the challenges and opportunities that come with it.
ChatGPT lowers AI costs and offers speed advantage
Large language models like ChatGPT will become entirely normalised in business because they lower the cost of artificial intelligence by allowing users to have multiple models over one base, giving a speed advantage, IBM's Krishna told the attendees. "Beyond language is going to be a given because code can be a form of language and then you can go to, 'What else can be a form of language?'," he told the meeting of world leaders.
Krishna also discussed the rise of quantum computing and its potential to solve problems in the physical world, such as materials, chemistry, encryption and optimisation problems within a few years. He urged businesses to invest in quantum-proof decryption for any data they care about.
Qualcomm's Amon said businesses are looking to digitally transform their operations to become more efficient and productive. Amon also predicted that the future of computing will become virtual, evolving from mobile phones to smart glasses.
Bharti Enterprises' Mittal discussed the potential of 5G and how it will create new use cases such as drone management, robotic surgery, and autonomous vehicles and also predicted that the democratisation of products and services will greatly impact our grandchildren's lives, making it very different from ours. Accenture's Sweet discussed the potential of large language models, highlighting the importance of having good data and the potential of the metaverse to generate US$1 trillion of revenue by 2025.