BlackBerry's automotive AI platform gets a CES public reveal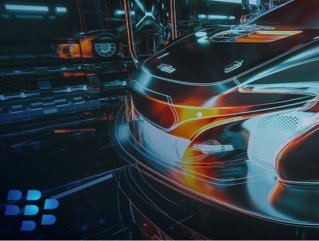 AI-powered intelligent vehicle data platform will be pre-integrated on Bosch and PATEO's next-generation cockpits for rapid development of third-party apps
BlackBerry's automotive artificial intelligence platform IVY - co-developed with Amazon Web Services (AWS) - is now pre-integrated on three commercially-available digital cockpit platforms from Bosch and PATEO, designed to enable automakers to rapidly deploy innovative third-party applications to enhance in-vehicle experiences for drivers and passengers alike.
The three implementations were demonstrated at the 2023 Consumer Electronics Show (CES), marking the first time BlackBerry IVY has been shown publicly in a vehicle. The BlackBerry IVY solution will be generally available in May 2023.
BlackBerry and AWS demonstrated several BlackBerry IVY-powered applications at CES including Bosch's platform in a Jeep Grand Cherokee showing innovative AI-based solutions for predictive maintenance of brake and tyre wear, powered by Compredict, as well as secure in-vehicle payments, powered by CarIQ.
Elsewhere at CES, PATEO's intelligent Digital Cockpit shed light on an EV battery management solution, powered by Electra Vehicles, currently being commercialised in the Chinese market by PATEO; and a virtualised BlackBerry IVY platform solution, powered by AWS Graviton Processors, demonstrated how automakers can rapidly develop ML-based automotive solutions for scene detection and cybersecurity use cases.
Reducing R&D complexities
"We have been working hard at building BlackBerry IVY into a flexible and comprehensive software-defined solution to support multiple underlying hardware and software platforms," says Vito Giallorenzo, SVP, General Manager of IVY and Head of Corporate Development at BlackBerry. "Automakers and partners can take advantage today of BlackBerry IVY readiness and scalability to help accelerate their software-defined journey, reduce their R&D complexities and achieve faster time-to-market for their monetisation services."
Kathrin Renz, Vice President of Industries at AWS says: "When we began this journey with BlackBerry three years ago, we recognised a significant opportunity in the automotive industry to leverage the cloud and turn vehicle data into actionable insights that would help ignite significant change in the industry's approach to vehicle development."
"Today, the AWS co-developed BlackBerry IVY solution stands apart as a key part means of achieving the software-defined future the automotive industry demands. This continued innovation is a testament not only to the power of the cloud and what it enables, but also how data and insights will deliver the future of mobility."