Automated AI medical scribe helps doctors avoid burnout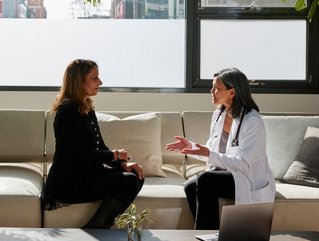 Pine Park Health's Denise Yun, right, with patient. Photo: Ambience
Ambience AutoScribe technology is custom-built for medicine and works in real-time without human scribes, listening in as doctors talk to their patients
A specialist AI company has released a fully automated medical scribe to address burnout in an overworked US healthcare system.
Ambience Healthcare announced the launch of Ambience AutoScribe yesterday, although the technology is currently already being used by provider organisations across North America.
Ambience AutoScribe uses state-of-the-art artificial intelligence technology designed specifically for the medical industry. The program can capture the nuances of each patient's story without needing virtual or in-person human scribes. It operates in real-time and embeds itself into EMR workflows, making the AI-generated notes immediately available for review, editing, and sign-off without disrupting provider workflows.
The program's customizable nature allows providers to adjust Ambience AutoScribe to their individual preferences. This ensures the notes are written in the provider's voice and style.
"While building a primary care practice at our previous company, we saw our providers burning out from spending over two hours a day entering data into the EMR," says Ambience Healthcare Co-founder and CEO Mike Ng. "We tried every solution we could find — dictation, templates, phrase expanders, and even virtual scribes that claimed to be 'powered by AI' — but nothing truly worked for our providers,"
"We founded Ambience with the goal of creating that elusive holy grail: an ambient, AI system that generates high-quality documentation in real-time so that providers can purely focus on providing patient care; a system that is always available, scalable at the cost of software, and self-improves over time."
Coping with complex conversations about care
AutoScribe's capabilities extend to medical specialties such as behavioural health, psychiatry, and geriatric primary care. In these areas, notes tend to be lengthy, conversations can be complex, and patient access may be hindered due to a lack of qualified providers.
Providers who have integrated AutoScribe into their workflows have reported saving significant time on documentation. This has enabled them to use their time more efficiently, resulting in improved care for more patients.
"The dilemma is that clinicians don't have time to write down everything while they're in the room with the patient," says Dr Kendell Cannon, Chief Medical Officer of Pine Park Health, a large primary care group providing care for complex geriatric populations in assisted living facilities, and Clinical Assistant Professor at Stanford School of Medicine. "Ambience's technology allows clinicians to avoid multitasking, focus on their patients, and create a person-centred clinical record."
Dr Jennifer O'Driscoll, a Medical Director at Rocket Doctor who focuses on family medicine and substance abuse disorders says: "It's remarkable how effectively and accurately AutoScribe captures the essence of what the patient is saying. It really knows how to document the narrative and nuances of each patient story, not just the black-and-white medical facts. It actually reads like my own note and not a cookie-cutter set of macros or templates. When I review it later, I remember exactly who that patient was."
The healthcare system in the United States is already stretched thin, with more demand for high-quality care and a shortage of providers to address it, says George Khasin, CEO of Pine Park Health. "Automating non-clinical work enables providers to focus on providing care, which is what they want to do most and what patients most need."