AIOps: The crystal ball of the IT industry?
By Adam Young, Sales Engineering Director, EMEA, LogicMonitor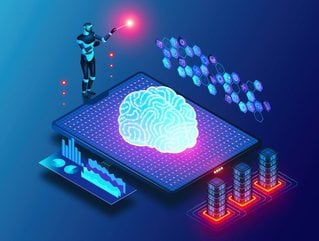 In today's digital age, visibility alone is not sufficient, and traditional, manual methods of data sorting are simply not viable in the event of an outage
It's not an easy time for technology organisations. They're facing more threats than ever before and desperately need to know what's coming down the line. The industry has also been subject to huge amounts of change, which is creating turmoil and innovation simultaneously.
A part of that huge change has been the prevalence of hybrid working. The workforce is evidently thriving off the greater flexibility and improved work-life balance that a hybrid model offers. In fact, more than three-quarters of employers in the UK are now offering hybrid work arrangements, allowing their staff to work both remotely and on-premise.
Unfortunately, employers are finding that the rise in hybrid working is creating a whole host of fresh challenges. The practice has thrown the delicate balance of many organisations' ecosystems into disarray. To cater to this new working model, organisations are having to adopt a new set of tools and solutions. To make matters worse, this is a cyclical process. Every new piece of technology that an organisation invests in brings with it new challenges and further complicates the tech stack. A convoluted tech stack makes it astronomically more difficult for an organisation's IT team to predict what problems are coming down the line, and subsequently manage them.
Another roadblock IT professionals are facing is the maintenance and upkeep of legacy tools and systems. Despite still being critical to the fabric of the organisation, in many cases, the technology is outdated and causing more challenges.
But who cares about the tech stack?
Issues surrounding the tech stack were previously an area of focus solely for the IT team. In recent years, however, these challenges have been seriously impacting the wider business, meaning it's been rapidly becoming a priority for the C-Suite. CIOs are increasingly having to adopt a strategic focus on IT readiness as they recognise the pressing need for organisations to be better equipped to address today's digital age. Preparedness, or IT readiness, means the ability to have a comprehensive understanding of the digital landscape, continue operations despite disruptions and deliver consistent innovation to further business goals.
In preparation for the future of the organisation, IT leaders should consider pivoting to an AIOps approach. The ability to access and utilise the tools needed for machine learning (ML) and AI, will help IT teams to better manage their systems and will be the key to survival in 2023. For context, Gartner is expecting the percentage of large enterprises using AIOps and digital experience monitoring tools to monitor applications and infrastructure will rise from 5% in 2018 to 30% in 2023.
How does AIOps work?
AIOps stands for artificial intelligence (AI) for IT operations and describes the process of using ML and data science to improve proficiency and more effectively solve issues with IT operations. The practice combines big data and ML functionality to enhance all primary IT operations, including identifying, troubleshooting, and resolving availability and performance issues.
AIOps can provide a range of central functions including:
Ingesting data from multiple sources, agnostic to source or vendor
Performing real-time analysis at the point of ingestion
Performing historical analysis of stored data
Leveraging machine learning
Initiating an action or next step based on insights and analytics
While the benefits of AIOps are wide ranging, one of the key aspects is the ability to provide monitoring capabilities. In today's digital age, visibility alone is not sufficient, and traditional, manual methods of data sorting are simply not scalable or viable in the event of an outage. Given the increasingly complex IT infrastructures, teams need the capability to identify issues faster.
Implementing an AIOps platform enables organisations to gain a holistic view of all of their systems – however complex. Gaining end-to-end visibility across their networks, applications, business systems and infrastructure, IT teams are able to transition from a reactive to a proactive posture, pre-empting issues before they occur.
Getting started with AIOps
IT professionals shouldn't be put off by the implementation process of AIOps. After all, there are sadly no quick fixes, and it can be a long journey. A helpful point of reference for organisations is the four levels of maturity:
Descriptive Analytics – This is a reactive capability that details what has previously occurred through the use of dashboards and reports
Predictive Analytics – This offers the capability to predict what might happen based on the historical patterns that were detected in the descriptive analytics
Prescriptive Analytics – This level of maturity questions whether you have the right prescriptions to automate the remedy, as you're now aware of what issues might be in the pipeline
Autonomic or a Self-Healing System – Once you reach this level, more than 50% of your business processes will likely be automated, saving your employees significant amounts of time
The levels of maturity are a useful tool for understanding where you are on your AIOps journey, and what you can expect to achieve at each stage. While organisations may want to launch their AI initiatives right away, they need to understand that they may not be able to employ the full power of the tech until they have the necessary level of maturity. It's important not to run before you can walk.
Nowadays, every organisation is a digital organisation – whether they like it or not. Therefore, ensuring IT systems can deliver the resiliency and continuity required for today's digital landscape is critical. Visibility of the potential issues coming down the line is an essential capability for achieving this. In doing so, IT teams (and the wider business) are able to move from a reactive to a proactive approach. Not only does this allow for more innovation, but ultimately, will help to secure the long-term future and survival of the business.