AI tools of the trade to help design faster, cheaper chips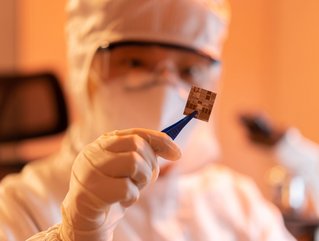 Artificial intelligence tech is going to be used to push the boundaries of Moore's Law in a hyperconnected world, according to a new report from Deloitte
Chips are getting more complicated, and design talent is scarce, but artificial intelligence tools could meet these and other challenges created by digital transformation, according to new research.
Deloitte's new Technology, Media & Telecommunications (TMT) 2023 Predictions report focuses on the crucial roles artificial intelligence (AI), advertising video on demand (AVOD), 5G and chips could play.
"This year's TMT predictions underscore a common theme, both with consumers and businesses: to do more with less, as inflationary pressures, supply chain issues and other world events continue to cause uncertainty," says Kevin Westcott, Vice Chairman, TMT National Industry Leader and Global Sector Leader, Telecom, Media & Entertainment, and Sport at Deloitte. "Given this, consumers are looking for more cost-effective ways to communicate, to be entertained, and to be productive, while businesses are looking for efficient ways to innovate in order to compete, differentiate and grow revenue."
Chip companies are using AI to help design chips faster, cheaper, and more efficiently, the report explains, and Deloitte predicts the world's leading semiconductor companies could spend US$300 million on internal and third-party AI tools for designing chips in 2023, and that number may grow by 20 per cent annually for the next four years to surpass US$500 million in 2026.
The impact of AI will likely go far beyond the money spent on AI design tools. They can enable chipmakers to push the boundaries of Moore's Law, save time and money, and even drag older chip designs into the modern era, say the report authors.
"The semiconductor shortage has demonstrated the need for faster, more efficient manufacturing of chips in order to meet demand," says Paul Silverglate, Vice Chair, US National Technology Sector Leader at Deloitte. "Artificial intelligence-aided design can be used to address this need and can also make older chips better by moving to more advanced process nodes and even help close the chip talent gap. By making chip design exponentially faster with AI, semiconductor companies can move beyond the current market challenges and focus more on what's next."
Cost-conscious consumers have appetite for compelling content
Deloitte predicts that major streaming services that have been ad-free will add advertising video-on-demand (AVOD) options. While ad-free subscriptions aren't going away, Deloitte anticipates that by the end of 2023, major subscription video-on-demand services in developed markets will likely launch new ad-funded tiers. By the end of 2024, half of these providers will likely also have launched a free ad-supported streaming TV service (FAST). And by 2030, Deloitte expects that most online video service subscriptions will be partially or wholly ad-funded.
"Our recent research showed the churn rate for streaming services in the US was 37 per cent. This means media and entertainment companies should continuously look for ways to generate new revenue while appealing to cost-conscious consumers who have a growing appetite for more compelling and diverse content," says Jana Arbanas, Vice Chair US Telecom, Media & Entertainment Leader at Deloitte.
"Advertising video on demand, for example, can satisfy both objectives by giving consumers more options that work within their budget and streaming companies more opportunity for growth by working with eager advertisers, not to mention more lasting relationships with consumers."
Streaming providers are spending billions of dollars on live sports. They have purchased rights across the spectrum of sporting events in a bid to attract, retain, and monetise their audiences via this popular content. Deloitte predicts that in 2023, streamers could spend more than US$6 billion1 on major sports rights in the largest global markets.
Supercharged semiconductors made of high-power materials are taking chip development to a new level. Replacing silicon, these materials—primarily gallium nitride and silicon carbide—are suited for the higher voltages, power levels, and resilience needed for increasingly common applications such as EV batteries, super-efficient consumer electronics chargers, powerful solar panels, advanced military applications, space technology and nuclear energy.
Chips made of high-power semiconducting materials could sell a combined US$3.3 billion in 2023, up almost 40 per cent from 2022. Growth in these types of chips, collectively known as power compound semiconductors, is expected to accelerate to nearly 60 per cent in 2024, possibly generating revenue of more than US$5 billion.
Deloitte predicts that more than 5,000 broadband satellites could be in low-Earth orbit (LEO) by the end of 2023, because of growth in commercial data satellite deployments to provide high-speed internet to every corner of the world. They could make up two working constellations providing high-speed internet to nearly a million subscribers on all parts of the planet, says Deloitte.