AI research suggests B2B businesses better believe the hype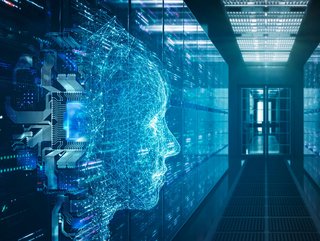 Venture capital is flowing into the enterprise artificial intelligence space, but just a fifth of companies are ready to make full use of AI opportunities
Artificial intelligence (AI) is still more hype than reality in the enterprise, but AI investment is growing rapidly, and nearly all technology providers accept it is critical for gaining market share and building customer loyalty, according to new research. However, only about 20% of companies have the technology infrastructure in place to fully exploit AI's potential.
These findings emerged in Bain's Technology Report 2022, and in a follow-up analysis by Bain Partner Paul Renno, Data Science Vice President Eric Sheng, and Silicon Valley-based Partner Jue Wang, in which they explain software-as-a-service (SaaS) companies are among those technology providers leading the way. A total of 86% of companies say AI is important for gaining market share and building customer loyalty, Bain discovered.
The past five years have seen more than US$170 billion of venture capital investments in AI hardware and software, as well as platforms and algorithms, which is in addition to other, significant investments made by leading cloud service providers Amazon Web Services, Google and Microsoft Azure.
"A key area where we see AI making significant inroads is customer success — helping businesses deliver more personalised and productive experiences," say the Bain authors. "The potential for AI in customer success is promising. In our recent survey, two-thirds of chief information and chief technical officers said that using AI for customer success is among their top priorities over the next two to four years."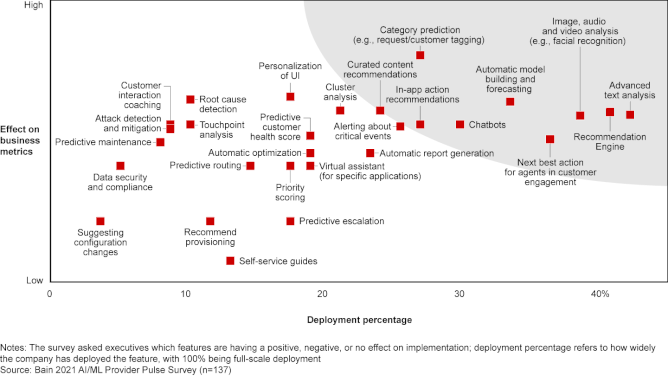 The integration of AI into customer success applications signals an inflection point, says Bain. AI has moved beyond simply offering insights and can now help with product development and features for specific customers, allowing for more bespoke product development and fine-grained predictive analytics to signal opportunities and risks.
Bain says AI is essential for tracking customers old and new
AI systems are also becoming more adept at design work for the customer's journey in the business-to-business space. Bain points to the example of a B2B software company that built an AI model to identify and attribute customer acquisitions to specific products and services. The model helped the company discover that while some products generated revenue from its existing customer base, only a few brought in new customers, which allowed the company to refocus its sales and marketing investments.
Bain recommends a number of areas companies need to work on in order to ensure they can offer critical capabilities in the evolving AI space. These include an effective product architecture and infrastructure for AI-infused offers; feedback loops for data capture and ongoing learning; the ability to track customer engagement throughout the customer journey; and feedback that enables product development teams to personalise offers using AI.
Bain has also noted most pathfinder technology providers are taking significant actions in three crucial areas: data and infrastructure, with some companies introducing converged data platforms to expedite product development; customer-led AI roadmap and processes, whereby product development is integrated more closely into customer support infrastructure; and people and processes, which has seen the integration of AI engineers with product teams.
"Tech leaders are investing in AI because they see it as the path to taking customer-centricity to the next level," say the Bain authors. "Although our research finds that these investments have yet to match executives' aspirations, the direction of travel seems clear."