AI, NFTs and metaverse lead list of transformational tech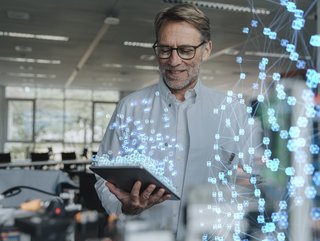 New technologies are creating fresh immersive experiences and accelerating artificial intelligence (AI) automation – but only for those who can keep up
A wave of revolutionary new technologies is accelerating the adoption and application of artificial intelligence (AI) in the workplace. But the pace of change is so fast that senior stakeholders are going to have to pay close attention to the "must-know" trends if they are to stay on top of crucial developments.
"Emerging technologies offer transformational potential for businesses, but CIOs and technology innovation leaders are challenged to scale digital capabilities while improving sustainability in the face of expanding resource constraints," says Melissa Davis, VP analyst at Gartner. "It is essential that organisations cut through the noise surrounding emerging technologies to accelerate change by leveraging innovations that drive competitive differentiation and efficiency."
Gartner's Hype Cycle for Emerging Technologies identifies key insights from more than 2,000 technologies, reduced down to a set of "must-know" emerging technologies and trends profiled by the company each year. These technologies and trends have the potential to deliver a high degree of competitive advantage over the next decade, says Gartner, with three developments of particular interest.
Evolving and Expanding Immersive Experiences
Dynamic virtual representations, environments and ecosystems of customers and people are the future, says Gartner, as well as new modes of user engagement, which allow individuals control of their own identities and data. Technologies to watch in this area include the metaverse, non-fungible tokens (NFTs), super apps and Web3, decentralised identity, digital humans, digital twins, and internal talent marketplaces.
Companies are already anticipating revenue from the metaverse's inescapable reliance on AI. "Without AI's autonomous interpretation of complex datasets, the magnitude of processing required to form the foundation of a metaverse would render it impossible," says Parth Joshi, Chief Product Officer and Chief Technology Officer for Hexagon's Manufacturing Intelligence division, a provider of digital reality products and autonomous technologies.
"The optimisation of computing efficiencies through AI enables the data-driven insights that make this virtual world both possible and useful; an immersive experience that will be critical for manufacturers."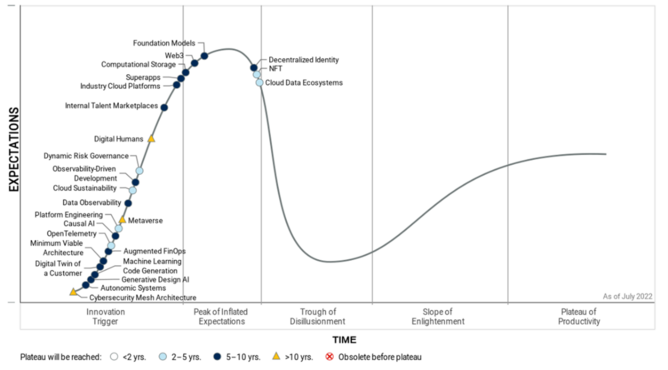 Accelerated AI Automation
AI models can be applied to automate development, training and deployment and also refocuses the role of humans in AI development, says Gartner, resulting in more accurate predictions and better decisions. Technologies of note include autonomic systems, causal AI, foundation models, generative design AI and machine learning code generation.
Using causal AI, London-based causaLens - which this year received US$45m investment from Dorilton Capital and Molten Ventures - discovered possible causal connections between the expression of genes and proteins and the manifestation and stage of colorectal cancer.
"Causal AI is a fundamental scientific breakthrough and causaLens' vision for Causal AI extends far beyond enterprise decision making. causaLens has the potential to disrupt a vast range of sectors and industries and has already demonstrated the value of its Causal AI technology in biological applications such as the discovery of cancer biomarkers," says Nicholas Chia, Assistant Professor of Biophysics at Mayo Clinic, which partnered with causaLens on the project.
Optimised Technologist Delivery
These technologies provide feedback and insight that can accelerate product, service and solution delivery and increase sustainability of business operations, says Gartner. Technologies to track include augmented FinOps, cloud data ecosystems, cloud sustainability, computational storage, cyber security mesh architecture, data observability, dynamic risk governance, industry cloud platforms, minimum viable architecture, observability-driven development, OpenTelemetry and platform engineering.
Computational storage – which gives storage its own computing power to reduce data movement – is the subject of a collaboration between Los Alamos' High Performance Computing division and Korea-based semiconductor and memory manufacturer SK hynix.
The Laboratory is moving its large-scale simulation input-output (I/O) from file-based to record- and column-based. The Laboratory has reported a thousandfold increase in speed in some instances.