AI Chatbots: The good, the bad and the ugly
By Francis O'Haire, Group Technology Director, DataSolutions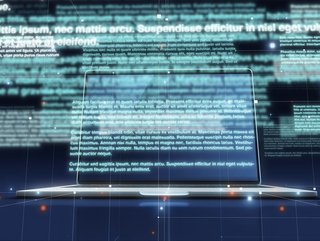 Like all ground-breaking advances in technology, there are both positive and negative use cases for AI chatbots
Competition between Google's Bard and OpenAI's ChatGPT will only serve to facilitate advances in AI technology, says DataSolutions' Francis O'Haire
AI, especially when it comes to chatbots, is garnering a lot of media interest. When OpenAI launched ChatGPT back in November 2022, it was seen by many as a significant breakthrough in technology - an artificial intelligence capable of providing users with detailed responses and coherent answers spanning multiple areas of knowledge. But like all ground-breaking advances in technology, there are both positive and negative use cases – splitting the atom offered both the promise of cheap energy but also the threat of nuclear devastation.
Indeed, even the leaders of great tech companies have arrived at a crossroads in their respective views concerning AI. It comes as news that Bill Gates has criticised Elon Musk and more than 1,000 tech leaders who want a pause in developing artificial intelligence due to fears it could destroy humanity. Mr Gates is of the opinion that pulling the plug on the growth of ChatGPT-like systems will not solve any challenges - what should industry leaders focus on then to capitalise on any progress in this area? With 'good' clearly at the forefront when it comes to chatbot technology, what about 'bad' and 'ugly'?
Criminal use
In March, Europol released a report showing how ChatGPT could be used for criminal purposes. As a key observation from the report, "while all of the information ChatGPT provides is freely available on the internet, the possibility to use the model to provide specific steps by asking contextual questions means it is significantly easier for malicious actors to better understand and subsequently carry out various types of crime". For example, phishing campaigns can often suffer from poor execution in terms of the perceived authenticity of the message - you see poor spelling and grammar, or unrealistic branding. But technology like ChatGPT could greatly assist in the rapid and large-scale production of much more professional looking phishing emails with the previously mentioned shortcomings removed.
Also, ChatGPT can produce computer code without requiring a strong background in programming. While there are safeguards in place to limit the creation of malicious code, these safeguards have not proven to be foolproof thus far. Sly manipulations of the questions put to the AI can manipulate it into producing something it should not. An example has recently been documented by Check Point Research where cybercriminals used ChatGPT to improve the efficacy of an existing piece of malware.
Fake news
We are constantly hearing about 'fake news'. Well, AI has proven itself very capable at producing realistic photos and images based on the user's requests. These can be used in promoting falsehoods or fake news which can be used to further the agenda of nefarious individuals, groups and even governments. Prime examples of this are the fake pictures of former president Trump supposedly being violently arrested and detained by the police. And let's not forget about deepfakes. Many of these are pornographic - research has shown that a staggering 99% of these manipulated images mapped faces from female celebrities onto porn stars. Will we see examples of this being used in so-called revenge porn in the future? And there is also the less inflammatory, but nonetheless remarkable, fake photo of Pope Francis sporting an impressive designer coat which went viral and fooled much of the world.
The Chatbot space will become increasingly busy with Google's launch of Bard to compete alongside ChatGPT which will only serve to facilitate advances in AI technology and continue the fight for good. After all, AI and Machine Learning have been tools for good for many years and the recent and rapid advances with the likes of ChatGPT, Bard and any other newcomers will undoubtedly be put to good use also. In the world of business, chatbots with AI and machine learning capabilities can help organisations redefine customer service massively. They can handle thousands of customer queries instantly as well as simultaneously improving the average response time. They can also help businesses maintain solid levels of consistency when answering queries and improve customer experience with the brand - they can even be programmed to be multilingual.
We already see cyber security vendors using these technologies extensively to keep ahead of the hackers and to lighten the load for overwhelmed cyber security teams. Advances in AI such as ChatGPT can be incredibly powerful tools in helping combat an increasingly more complex and sophisticated threat landscape.
After all, if the bad guys are finding ways to use this incredible technology, then it's imperative that the rest of us do the same to level the playing field.