AI call centre tech has 'cracked code of human sentiment'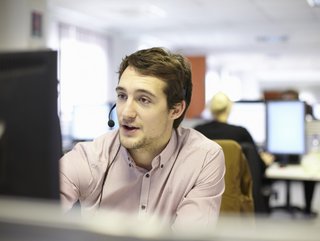 New AI technology announced this week can provide instant feedback on the tone of call agents' voices, improving customer satisfaction and conversion rates
Jabra has announced the launch of new artificial intelligence (AI) technology which it says will transform contact call centre experiences and 'cracking the code of human sentiment'.
The Danish brand said its new Software-as-a-Service (SaaS) solution, Engage AI, employs AI that provides real-time insights to improve customer calls and support employee wellbeing.
The launch comes on the back of Jabra's findings on how 76% of customers who contact customer service do so over the phone and how voice interaction remains the preferred channel for customers.
AI model can give instant feedback by reading human emotions
Using an AI model based on over 20 years of research and millions of analysed conversations by Munich-based technology operation audEERING, Engage AI can provide an instant measurement of the customer experience and live coaching on how to manage the given situation. When agents deliver a friendly and energetic voice, it demonstrably improves customer satisfaction and conversion rates, and reduces call length, thereby saving costs.
Such real-time insights allow agents to adjust their approach during calls immediately to better suit the caller's needs as well as post-call in the form of engagement scores to understand areas of improvement. The engagement score and data can also be integrated into existing analytics platforms via API.

Conversational AI growing, with market to reach almost $2bn this year
With research forecasting the use of conversational AI spending could reachUS$1.99bn this year, striking the balance between human and AI agents is key.
"Gartner estimates that there are approximately 17 million contact centre agents worldwide today," said Daniel O'Connell, VP analyst at Gartner. "Many organisations are challenged by agent staff shortages and the need to curtail labour expenses, which can represent up to 95% of contact centre costs. Conversational AI makes agents more efficient and effective, while also improving the customer experience."
Gartner projects that one in 10 agent interactions will be automated by 2026, an increase from an estimated 1.6% of interactions today that are automated using AI. Conversational AI can automate all or part of a contact centre customer interaction through both voice and digital channels, through voicebots or chatbots, and it is expected to have transformational benefits to customer service and support organisations within two years.
AI can support skill development and improve customer service
Jabra's SaaS solution comes with tools to support skill development and improve team management. Contact centre agents can get access to self-coaching assessments and performance evaluations which are strength-based, inclusive and personalised for each agent and team.
"Our partners in the contact centre space are obsessed with their customers and are constantly seeking ways to enhance the customer experience. At Jabra, we believe in getting it right from the first second and see the value in improving conversation qualities," said Anders Hvelplund, SVP for Call Centric Solutions at Jabra.
"Engage AI has cracked the code of human sentiment, enabling agents to react instantly and be the best version of themselves. We are also keen to use the platform to bring supervisors and agents closer together in this era of remote working and create more opportunities for coaching.