AI and vertical farms to keep world on top of food demand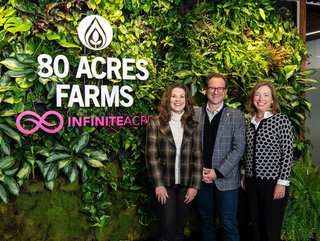 Tisha Livingston (left), CEO Infinite Acres, Mike Zelkind, CEO 80 Acres, and Barbara Humpton, President and CEO of Siemens USA.
Siemens technology and capital aiding 80 Acres Farms and its technology subsidiary, Infinite Acres, in expansion to meet future global food requirements
Siemens is helping a US-based leader in the indoor farming industry expand its business to meet global food supply demands, with artificial intelligence and machine learning being called on to keep plants healthy.
With five production farms in southwestern Ohio, a new farm in Florence, Kentucky, a future farm in Covington, Georgia, and R&D facilities in Arkansas and the Netherlands, 80 Acres Farms specialises in the production of food grown in eco-friendly indoor farms closer to consumers.
Backed by Siemens Financial Services' initial investment, the two entities say they have partnered to apply innovative technology within the agriculture industry and foster sustainable, healthy, traceable, and more productive farming practices.
"We sometimes hear that food is medicine," says Siemens USA President and CEO Barbara Humpton. "Vertical farming is an opportunity to turn this concept into a reality, and 80 Acres Farms' use of technology is now modelling the path forward for this transformative approach to food production.
"In this moment of change and disruption – and in a world becoming increasingly 'glocal' – what I see at 80 Acres Farms represents both the purpose and the power of the industrial technologies now readily available to us: the capability to invent anywhere, then to scale our world-changing solutions everywhere."
Siemens' full-scale collaboration involves the optimisation, automation and control of 80 Acres' farming facilities and processes. Working with the company's technology subsidiary, Infinite Acres, Siemens supports the industrialisation and scaling of the company's proprietary Loop platform – a comprehensive solution encompassing crop management software and algorithms, environmental controls, robotics, and automation.
Siemens' R&D arm, Siemens Technology, is to use artificial intelligence and machine learning to develop an app that optimises software to identify irregularities, avoiding adverse conditions within the plants.
From digital twins to advanced controls
"Infinite Acres has built the Loop platform through collaboration with best-in-class technology partners such as Priva, Ocado, and Signify," says Tisha Livingston, co-founder of 80 Acres Farms and CEO of Infinite Acres. "Our new partnership with Siemens takes our collaboration and technology platform to a new level through the 360° approach across software and connected hardware solutions — from digital twins to advanced controls."
Siemens Smart Infrastructure provides power distribution equipment while its energy and building management technologies within the facilities help monitor fire and life safety, security and power distribution systems all from a single interface.
Siemens Digital Industries will install a suite of advanced industrial automation technologies and edge devices to help automate the production line, while edge devices and human-machine interfaces monitor and update the farms' control systems. Siemens Digital Industries Software is developing a digital twin that simulates the farm, plant growth and production process to predict plant growth under diverse conditions and optimise future farms for growth and shipping.
"In just seven years, we have scaled from a single R&D facility to a high-tech modular system that we can deploy across the world," says Mike Zelkind, co-founder and CEO of 80 Acres Farms. "Standardising our technology and infrastructure enables our industry-leading technology to scale worldwide rapidly and effectively. By building a network of committed global partners like Siemens, we can feed tens of millions more people in a matter of years."