Top 10 companies creating virtual and augmented reality tech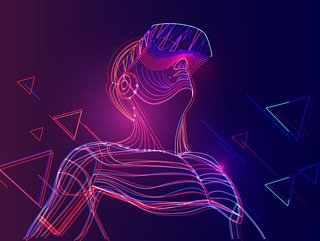 As the virtual and augmented reality markets expand at pace, we take a look at the top companies developing this technology for different industries
Virtual reality (VR) is a simulated experience that can be similar to or completely different from the real world. The technology aims to create a sensory experience for the user, sometimes including sight, touch and hearing.
Augmented reality (AR) is an enhanced version of the real physical world that is achieved through the use of digital visual elements, sound, or other sensory stimuli delivered via technology.
As companies look to develop technology for the metaverse, where VR and AR technology will play a key role, the VR industry is growing at a fast pace. The global VR market size is projected to increase from less than US$5bn in 2021 to more than US$12bn by 2024.
According to Grandview Research, the global market for AR was valued at about US$17.67bn in 2020, and will likely grow at around 43.8% up to 2028.
Here, we look at the top companies developing this technology.
10 - Quytech
Recognised globally as one of the top mobile app development companies, Quytech provides custom app development services for Android, iOS, Artificial Intelligence, Augmented and Virtual Reality. The company develops advanced AR applications for diverse business requirements. Quytech also offer brands innovative AR solutions with advanced marketing techniques and campaigns.
9 - Cemtrex
Cemtrex is a diversified technology company driving innovation in a wide range of sectors, including smart technology, VR/AR, advanced electronic systems, industrial solutions, and intelligent security systems. With VR and AR, the company aims to help both businesses and consumers find new value and experiences through technology.
8 - VironIT
Providers of custom software development services, VironIT support its customers with VR/AR app development. The company use a well-balanced set of technologies to create unique solutions for its customers. VironIT's team focuses on custom solutions for the top virtual reality platforms, including HTC Vive and Windows Mixed Reality.
7 - Unity
Unity is the world's leading platform for creating and operating interactive, real-time 3D (RT3D) content. Empowering creators across industries around the world, Unity supports a number of professionals including game developers, artists, architects, automotive designers and filmmakers. Its 3D product visualisation software bundle includes everything needed to visualise 3D and CAD data in real-time 3D, including AR and VR.
6 - Microsoft
Technology company, Microsoft, has developed its own AR/VR device with its HoloLens product. The technology can be used in manufacturing, engineering and construction, healthcare and education to improve efficiency and lower costs. Companies including Audi, the NHS and Airbus use the HoloLens 2 product. The AR/VR headset gives customers access to a robust ecosystem of apps supported with the security, reliability, and scalability of the Microsoft cloud.
5 - Samsung
Like Microsoft, Samsung has also developed its own AR/VR headset - the Gear VR. The headset enables people to enter virtual rooms and make use of the range of games, apps and experimental experiences developed by Samsung. The headset can be connected to Samsung's mobile devices and comes with a controller to help users navigate new realities.
4 - iTechArt
iTechArt offers custom software development for VC-backed startups and fast-growing tech companies. The company delivers AR apps that skillfully overlay the user's environment with 3D models and animation as well as with ultrahigh definition video. iTechArt also offers a valuable combination of advanced technical knowledge and a deep understanding of VR applications within various industries.
3 - Google
Alphabet's Google offers solutions for both AR and VR environments. The company offers AR in Google Search, now, people can use AR to place 3D digital objects directly from Search or from websites on Chrome. Google Maps also uses AR to help users navigate more easily. The company also offers a more affordable VR headset with Google Cardboard. ARCore, another AR product from Google, enables users to build new augmented reality experiences that seamlessly blend the digital and physical worlds.
2 - HTC
For gaming, HTC offers a VR headset through Vive, its VR branch of the company. The fully immersive headsets track and map movement around a room. Although many use the technology for gaming, the headset can also be applied in educational settings. Through Vive, HTC has a number of products including glasses and headsets. It also has VIVERSE, a metaverse ecosystem that connects people from all walks of life to an open and accessible virtual world.
1 - Oculus
Oculus is the team at Meta developing VR technology. With global departments dedicated to VR research, computer vision, haptics, social interaction, and more, Oculus is committed to driving the state of the art forward through relentless innovation. The Oculus suite of hardware currently includes Rift, a high-end PC VR headset; Touch controllers; and Gear VR, all powered by the Oculus Platform.