IBM and Dronehub partner to provide AI solutions for drones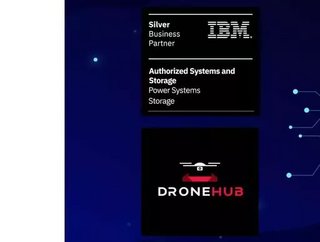 IBM and Dronehub have joined forces to manage data volumes and build next-generation AI-powered technology for drone operations...
has partnered with , a Poland-based manufacturer of drone-in-a-box systems, to automate drone inspection missions with machine learning and AI solutions.
Dronehub that while they focus on developing autonomous docking stations for drones they will collaborate with IBM to utilise IBM Power Systems Accelerated AI servers to help improve ground infrastructure and to improve inspection missions. 'As a result of this IBM-Dronehub cooperation, we will strengthen our abilities to help our clients and partners with large infrastructure to reduce costs of monitoring and to optimise the process of getting real-time aerial data.'
"By working with IBM, we can implement new concepts and algorithms necessary for the further development of our drone systems," Vadym Melnyk, Dronehub founder, and CEO.
Leveraging IBM's AI solutions will allow the drone startup to develop new artificial intelligence algorithms, expand its applications, and open up its offerings to new clients and industries. The ultimate goal is to reduce the costs of monitoring and optimise the process of getting real-time aerial data for clients with large infrastructure footprints.
"Next-generation AI-powered technology will considerably boost further development of aviation industry. With the support of IBM solutions, it will be possible to carry out even more advanced drone use cases across various sectors – from agriculture to railways," Sebastian Jeliński, IBM Senior Server Solutions Consultant.
Dronehub and Urban Air Technologies
The Uspace4UAM consortium, which includes Dronehub, was selected earlier this year to demonstrate Urban Air Technologies in four European countries to enable the safe integration of Urban Air Mobility in the European airspace.
The role of Dronehub in the project is to perform approximately 160 flights with drones in the city of Rzeszów for these three uses:
Transport of the AED to the spot of the accident
Aerial video monitoring of the scene of an incident or accident, along with providing the image for public services such as the police or fire brigade
Creating orthophotos and photogrammetry for the needs of public services
The first flights are planned for September 2021 and the last for October 2022. Alongside Dronehub other companies include Air Navigation Services of the Czech Republic, Altitude Angel, Austro Control, CATEC, CRIDA, DLR, ENAIRE, Lilium, TECNALIA, UpVision, and Vertical Aerospace.