How AI can help navigate a changing job market
By Eleanor Weaver, CEO, Luminance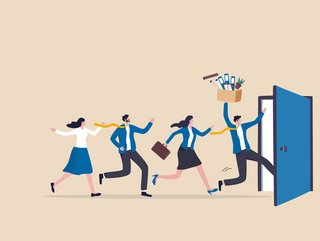 Eleanor Weaver, CEO, Luminance discusses the Great Resignation and how companies can utilise AI to navigate this changing job market
By now, we are all familiar with the phenomenon known as the Great Resignation. As advanced economies have started to emerge from the devastation wreaked by the pandemic, employees around the world are now contemplating new careers in the process.
The numbers involved in the Great Resignation are hard to understate. In the USA, Bloomberg reported that in November 2021 alone, a record four and a half million Americans quit their jobs, up from just over three million the year before. Nor is the trend a flash in the pan: Microsoft's 2021 Work Trend Index found that 41% of respondents are considering leaving their jobs in the next twelve months.
Implementing AI to create new opportunities
As the Great Resignation enters its second year, employers are looking at ways to understand and mitigate the drivers causing and sustaining the employee exodus. In large part, the phenomenon has been brought about by the pandemic. People everywhere have confronted their working lives – not to mention the impact it has had on their personal lives and mental health – with a newfound willingness to hold their employers to account. And with many people moving away from urban centres, traditionally inflexible working models based on five days in the office are looking increasingly off the cards. There is an ongoing shift of power from employers to their employees, and firms need to use all the tools at their disposal – including more robust investment in new technologies – if they are to attract and retain the best talent.
Indeed, the unstoppable march of increasingly advanced technology is playing its part in shaking up the jobs market as well. As AI becomes ever more integrated into the fabric of our jobs and personal lives, certain jobs are ripe for automation, and now businesses need to adapt accordingly. While integrating new technology to change employees' roles or daily tasks may seem daunting, employers who do not embrace change may find themselves left behind in the competition for talent.
This new breed of technology presents employers with great opportunities; for some organisations that might be automating low-level tasks whilst it might be developing more data-driven strategies for others. Take the legal industry as an example. Famed for its long working hours, poor work-life balance and frequent reports of burnout, the legal profession is mired in the Great Resignation and subsequent 'war for talent'. Junior lawyers in particular often face extreme workloads, confined to lengthy and laborious tasks such as reading and analysing hundreds – sometimes thousands – of near-identical documents in search for a missing clause or 'smoking gun'. But just like the advent of affordable word processing software in the late 1970s brought about the end of manually blacklining contracts with paper and a ruler, AI is presenting an opportunity for humans to work differently. To let go of the monotonous tasks that a machine can do better and focus on the tasks that are unique to humans: creativity, problem-solving and strategic thinking.
AI and the overworked workforce
The same can be said for the medical field. AI represents a revolution for overworked radiologists. AI systems today are being used to detect early signs of lung cancer, up to 35% of which are missed at the initial screening due to limitations in human vision. Why not let the computer complete routine yet crucial tasks like spotting abnormalities on CT scans which might indicate tumours in patients, while the doctor's time is spent on tasks that are impossible to delegate to AI: that is, providing a life-saving treatment plan or engaging with patients' specific needs.
Last year, McKinsey Global Institute predicted that 45 million Americans – one quarter of the workforce – would lose their job to automation by 2030. A common reaction to that statistic is one of terror. But when we look back to the 1960s when the computer came along and payroll clerks inevitably lost their jobs, who would have predicted how many IT consultants we would have today? Organisations must be adaptable, and the pandemic has served as a wakeup call for those who must marry their embrace of new technology with efforts to transform their working culture in the face of staff retention challenges.
I have often thought that the term artificial intelligence is misleading, and that augmented intelligence would be more apt. Terminator-like images of robots still appear at the top of most AI-related news articles, but the reality is that these advanced technologies have the ability to have both a profound and positive impact on our working lives. In a time of great change, the opportunity has never been greater to adopt, adapt and successfully navigate the Great Resignation.