How AI can help businesses during the pandemic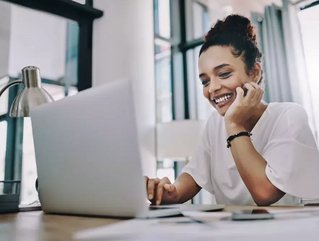 How can businesses remain operational while also adhering to these government guidelines...
It has been a challenging series of months for businesses across almost every industrial and commercial sector around the world. Nationwide lockdowns and subsequent restrictions due to COVID-19 have forced many businesses to shut their doors for long periods of time or reduce operations temporarily, resulting in significant financial losses. Not to mention the wider implications on society with large scale furloughs and redundancies being regularly reported.
With a number of restrictions still in place across the UK, knowing how to remain operational during this time is critical. With the government's tier system expected to be in place until at least February 2021, it is likely that COVID-19 protocols and guidelines around social distancing are here to stay. So how can businesses remain operational while also adhering to these government guidelines?
AI's big moment
Implementing AI into business processes has huge benefits. It can automate workflows, increase sales, provide predictive analysis, improve customer experiences, and detect fraud. Now, it has also been proven to be effective in the fight against COVID-19. The National Institutes of Health (NIH) recently launched a medical centre that uses AI and medical imaging to diagnose, treat and monitor COVID-19 patients. Similarly, it is proving helpful in diagnosing patients who need non-urgent care, leaving clinics and hospitals free to focus on emergencies.
But its usage stems far beyond just diagnosis; AI can also play a crucial role in helping businesses adjust to this new way of life and ensure social distancing guidelines are being adhered to within workplaces. 
Successfully monitoring employee behaviour and their whereabouts is a tricky task, especially for those involved in manufacturing, engineering or warehouse facilities. However, solutions such as Artificial Intelligence Video Analytics (A.I.V.A.) use existing camera networks and geospatial algorithms to track an individual's location in real-time. 
The algorithm can detect when two employees pass within a certain distance and trigger an alert which can be logged in a dashboard. The solution does not require access to an individual's mobile phone signal or use face recognition, and instead relies on GPS coordinates of individuals in real-time based on their location within the camera field of view.
Having a system in place that can automatically detect breaches can provide significant cost-savings to businesses, removing the need for staff to monitor cameras whilst ensuring social distancing is being practiced. Using the metadata acquired, employers can pinpoint particularly busy areas where people are frequently converging, or monitor areas most used by employees, such as staff common rooms, entrances and exits. 
Actionable insights
Another key element in monitoring and preventing the spread of COVID-19 is contract tracing. A.I.V.A. solutions can be used for tracing employee whereabouts throughout a building or warehouse. If an employee later tests positive for COVID-19, their path can be traced, and an alert can be sent out to those who came into contact with the infected person. 
The ability to conduct contact tracing rapidly instead of searching hours of video footage manually can save a significant amount of time, resource and money. What's more, if the government requires businesses to prove that social distancing guidelines are in place and instances are logged, then the dashboards can easily be used to show that correct procedures have been implemented and are being followed. 
Having more control over social distancing and contact tracing means businesses are less likely to be impacted when occurrences arise, resulting in less staff absences and lost revenues. The reliability and scalability of the technology means it can be rolled out across locations in offices, factories, airports and beyond, as an effective method in preventing the spread of COVID-19.
With ever-changing guidance and information on when restrictions will be permanently or even temporarily lifted, it's vital that businesses invest in technology that can future-proof their businesses and ensure they are able to remain operational during these challenging times.