Why SoftBank is buying 40% of robotics company AutoStore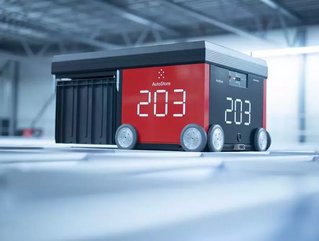 SoftBank's acquisition of a stake in Autostore reflects the growing demand for automation in embattled supply chains...
The fragility of international supply chains has been exposed like never before by recent events such as the COVID-19 pandemic or the recent of the Suez Canal.
One of the most impactful methods of making supply chains more secure is automation - with robots finding in the storage and retrieval of goods.
To that end, Japanese conglomerate and well-known startup investor SoftBank has invested in the Nedre Vats, Norway-based robotics company AutoStore.
Fulfillment automation
The company specialises in fulfillment warehouse robots which operate on a grid of aluminium rails which robots such as the traverse, directed by a controller that operates them in unison.
It also offers robotics software software, with products including Router that relies on algorithms to recalculate robot movement in real time - in order to adapt to events such as cancellations and maximise efficiency.
The $2.8bn purchase values AutoStore at a total enterprise value of $7.7bn, with existing shareholder Thomas H. Lee Partners continuing to be the majority shareholder.
Karl Johan Lier, President and CEO of AutoStore, said: "We are delighted for SoftBank to join the AutoStore team as we continue on our journey to automate all commerce and deliver best-in-class automation solutions to our customers. Our world-class investor group brings exceptional experience from multiple geographies, and we are thrilled to have SoftBank's leadership and support on a global scale, but particularly with our vision for growth in Asia-Pacific."
SoftBank's latest investment
SoftBank's rationale for the purchase was given as complementing its existing investments in automation (for instance in robotic process automation leader ), with the Japanese conglomerate anticipating significant growth for AutoStore as supply chain automation expands in popularity.
Masayoshi Son, SoftBank's Chairman and CEO. said: "We view AutoStore as a foundational technology that enables rapid and cost-effective logistics for companies around the globe. We look forward to working with AutoStore to aggressively expand across end markets and geographies."
(Image: AutoStore)