Transforming the enterprise with Yext's AI search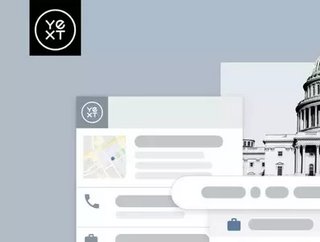 Recently, Yext released new AI search solutions and expanded its team. We look at what else the company has done to transform the enterprise with AI search
Yext was founded with the aim to replace outdated keyword search technologies enterprises were using. Older, more traditional keyword search technology only scans for keywords and delivers a list of hyperlinks.
Considering this technology doesn't answer questions, Yext developed its AI-powered Answers Platform that understands natural language. The technology has the ability to provide direct answers to questions about businesses, rather than providing links like its traditional counterpart.
Founded in 2006 by Howard and Brian Diselburger, the company has grown in its 15 years to now employing more than 1,300 employees within 16 global offices.
The company has recently announced a suite of AI search solutions. Designed to help government agencies, this suite will support modernisation and streamline digital experiences across channels.
"The signing of the 21st Century IDEA put the public sector's need for improved digital experiences into full view," said Laurie "LC" Cook, Vice President of Public Sector at Yext. 
"Now more than ever, government agencies are looking for technology that will quickly and easily set them up to serve constituents more effectively online. Our growing team is so excited to show them the potential they can unlock with Yext's powerful Public Sector AI search solution set, a one-stop shop for all of their CX needs," she added.
Supporting customers as they improve their search technology
With its one platform, Yext offers an AI Search solution for every business need including:
Marketing answers

Support answers

Ecommerce answers

Workplace answers

Developer answers
Thousands of brands deliver answers with Yext such as Verizon, World Health Organisation, Subway, Samsung and Lego.
Samsung decided to transform its help site with Yext Support Answers. With the integration of this technology, Samsung can easily monitor performance and influence aspects of the company's content strategy.
Within eleven weeks of launching Yext Support Answers, Samsung saw significant growth in every major customer satisfaction metric across NPS score (+45%), CSAT (+33%), Issues Resolved (+15%), and surveys completed (8x+).
"Before Yext, search on samsung.com was pretty typical relative to what other companies were doing. There was a magnifying glass at the top of the page, but its job was to sell phones, TVs, and fridges — its job was not to answer questions," said Scott Messina, Director of Search and Design Strategy at Samsung, whose team adopted Yext's technology. 
"But now, we've gone live with Yext Support Answers and it's doing what it needs to do. Our KPIs are moving in the right direction and we already have our eyes on other Yext solutions to further enhance the Samsung support experience," he continued.
Strategic collaborations to accelerate towards Yext's mission
To continue its mission to transform the enterprise with AI search, Yext has recently collaborated with Acquia to deliver new AI search integrations.
In collaboration with Acquia, Yext can offer its clients a new set of managed cloud solutions built with Drupal and Acquia solutions.
Marc Ferrentino, Chief Strategy Officer at Yext commented: "The customer journey is a conversation, and more than ever, that conversation is digital."
He added: "Our work with Acquia makes it simple for businesses to be actively involved in that conversation on their digital experiences, by putting the advanced infrastructure needed to understand and deliver answers to complex questions just a few clicks away."