Locus Robotics' warehouse automation leads to unicorn status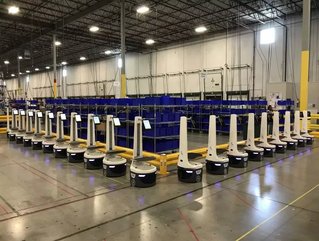 Locus Robotics' collaborative and autonomous LocusBots are capable of moving inbound and outbound items alongside human workers...
Wilmington, Massachusetts-based Locus Robotics is building autonomous robots for use in warehouses supporting the boom in ecommerce.
While static industrial robots have been with the world for some time, we've seen mobile robotics come on leaps and bounds in recent years, moving out into real-world applications. Take fellow Massachussetss-based firm Boston Dynamics, whose robot went on sale last year.
Mobile robots in the warehouse
One section ripe for robot deployment is logistics, with robots taking up the work of transporting items in a warehouse.
That's precisely what Locus Robotics specialises in with its collaborative and autonomous LocusBots, which are capable of moving inbound and outbound items alongside human workers.
The company currently works with 40 customers and 80 warehouses globally, with its LocusBots picking up a total 300 million units.
The latest AI unicorn
The company has just become the latest technology unicorn (a startup worth over $1bn) thanks to a new $150mn round of Series E funding, announced yesterday and led by Tiger Global Management and Bond, alongside Scale Ventures Partners and Prologis. Since being founded in, the company has raised across five funding rounds.
"This new round of funding marks an important inflection point for Locus Robotics," Rick Faulk, CEO of Locus Robotics. "Warehouses facing ongoing labor shortages and exploding volumes, are looking for flexible, intelligent automation to improve productivity and grow their operations. Locus is uniquely positioned to drive digital transformation in this enormous global market."
The company said it would use the funds to continue research and development efforts, as well as expand globally.
"Locus's innovative mix of proven technology, flexible design, and seamless scalability makes it an ideal choice to lead the digital transformation of the warehouse," said Griffin Schroeder, Partner at Tiger Global. "Facing rapidly growing ecommerce volumes, rising labor costs, and increasingly demanding customers, warehouse operators are seeking an automation solution that is flexible, scalable, and just works."
(Image: Locus Robotics)