How H2O.ai democratises AI with cloud technologies
Sri Ambati, Co-Founder and Chief Executive Officer of AI Cloud company, H2O.ai speaks to AI Magazine about his company and its work democratising AI
Founded in 2011, H2O.ai has grown to become one of the leading artificial intelligence (AI) cloud companies and is now recognised as a global visionary and thought leader in automated machine learning (autoML), time series forecasting and responsible AI.
Here, Co-Founder and CEO, Sri Ambati discusses the company and the power of AI and the cloud.
Can you tell me about your company?
H2O.ai, the AI Cloud leader, is working on its founding mission to democratise AI. The world's leading data scientists and engineers come to work at H2O.ai (including over 20 Kaggle Grandmasters) to deliver on our vision of making AI accessible to any business, government entity, non-profit or academic institution in the world. More than 20,000 organisations and millions of data scientists trust H2O.ai as their AI provider. Customers include AT&T, Citi, GlaxoSmithKline, Hitachi, Kaiser Permanente, PwC, Unilever, Walgreens, and many more. H2O.ai is picking winners in every vertical on every continent and making them AI superpowers to take on the tech giants with the H2O AI Cloud. Our innovative maker culture and customer obsession have won the trust and love of our customers. We recently closed US$100mn in Series E funding led by Australia's largest bank, Commonwealth Bank of Australia. We've now raised over US$250mn, and are the latest AI unicorn valued at US$1.7bn. Our backers include additional customers and partners like Wells Fargo, Goldman Sachs and NVIDIA. We work with over half of the Fortune 500 and our team of makers at H2O.ai works every day to deliver AI that solves their business problems and brings new insights.
What is your role and responsibility at the company?
The team at H2O.ai, every person, is a maker and we are all there to build and create for our customers. As the CEO and founder, I started H2O.ai to lead a global movement to democratise AI. I look after the strategic direction of the company, product development and guidance of our global customer base's AI-driven digital transformation initiatives. My passion is our AI for Good initiatives where we are working to solve some of the biggest problems in the world, like climate change and health equity. We currently have a Wildfire Challenge underway to have our community unleash new applications to solve the global issues brought on by wildfires. But the success of H2O.ai is about the makers—the thousands of data scientists and professionals from the community of customers, investors, partners, current and future shareholders, the open source community and nonprofits and government entities. The goal of this work is to democratise AI and make the world a better place.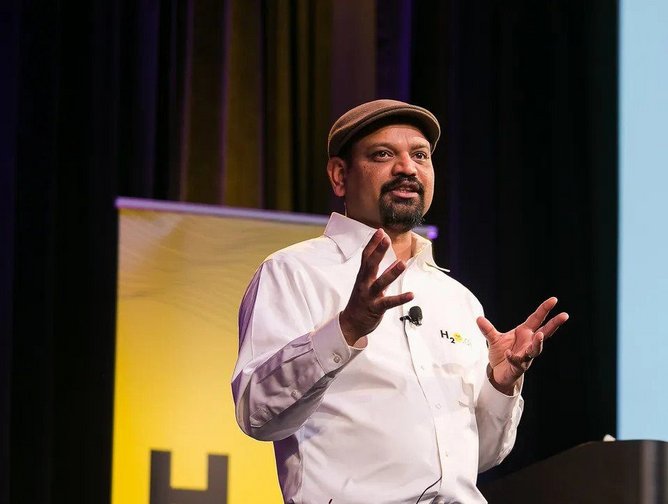 Sri Ambati
In your own words, can you outline your platform and how it supports your customers?
We are continuously making our software easier (democratising) low-code, reusable recipes and automation through AI Cloud and building data pipelines, AI AppStores and delivering AI as a service that our customers can use to improve their customer experiences, brands and communities. Our open source platform gives freedom and ability for customers to build their own AI centres of competence and excellence. We launched the H2O AI Cloud in 2021, offering customers a single, unified platform architected from the ground up to support our core mission of democratising AI. The AI Cloud is available in a fully managed version, bringing enterprise-grade, secure AI cloud to any organisation, even SMBs and startups who might have been price constrained and unable to reap the benefits of an AI Cloud before. Additionally, customers can choose a hybrid version and choose whatever deployment model they wish. The H2O AI Cloud simplifies the making of responsible AI that users can trust, operate efficiently and innovate rapidly with pre-built AI applications from our AppStore. Retail banking, credit cards, payments — almost every payment system from PayPal to MasterCard are customers. On the equities side, companies power fixed income, asset management, and mortgage backed security services using H2O's technology, with customers including MarketAxess, Franklin Templeton, and BNY Mellon. Unilever, Reckitt P&G are among those in consumer goods; UPS in logistics and delivery; Chipotle is among those in food services. Manufacturing became a fast-growing vertical due to supply chain disruption and demand sensing. We launched H2O AI Health to help our hospitals and providers, payers like Aetna and pharma customers. We are also co-innovating with our customers, like AT&T on our H2O AI Feature Store which we jointly developed and are jointly selling with AT&T. Our open source platform gives freedom and ability for customers to build their own AI centers of competence and excellence.
How does the combined power of cloud and AI improve business operations?
Globally, brands, the public sector and non-profits are looking at cloud and AI to increase revenue growth, optimise operations, mitigate risk and personalise customer experiences. Many are using AI technologies to drive such transformation. And the use of world-class automated machine learning (autoML) from us means innovation from initial idea to real-world impact gets to happen so much quicker.
As a result, we are enabling organisations to apply AI for virtually any use case, streamline machine learning operations and democratising AI across the organisation. As one H2O.ai customer has told me, "AI is central to our mission. We've deployed hundreds of AI models to support our products and services, including protecting our customers by scoring transactions in real-time for the likelihood of fraud. Collaborating with H2O around your H2O Wave and H2O AI Hybrid Cloud will let us expand those capabilities across the entire business."
What can we expect from H2O.ai in the future?
H2O.ai is working with innovators and category dominators in every vertical on every continent to make them AI superpowers with the H2O AI Cloud. I really hope we continue doing that, and I also want to see us continue to win the trust and love of our customers. We are 100% focused on our core vision that we can make the world better by serving our communities and customers with AI. We are like the Tenzing Sherpas of the AI mountains helping our customers to traverse and conquer AI peaks. And we are just getting started!