How Arrow Labs empowers workers with artificial intelligence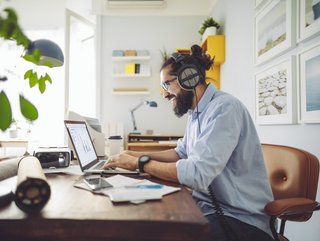 Arrow Labs' CEO and Founder Rami Darwish discusses the company's use of AI, its drive to make deskless work simple and the role of wearable technology
Tell me about Arrow Labs, your role and responsibilities there.
Arrow Labs' mission is to digitise the deskless workforce. To date, the push towards digitisation has largely ignored field operations - despite frontline workers being 80% of the global workforce. We provide a software platform delivering productivity management solutions. Our customers include large companies from the Middle East, Southeast Asia, the United States and Europe. They include the likes of DP World and the Port of Tampa, in Florida.
I am the company's Founder and CEO. During my career, I have held key technical and business roles in leading global tech corporations such as Dell EMC and Hewlett Packard. Before launching Arrow Labs, I developed software for mega-infrastructure projects such as city-wide surveillance, biometric border management, and maritime security. Via these projects, I understood the need for workflow management solutions to eliminate the disconnect between front and back offices.
How does Arrow Labs utilise AI?
AI is the enabling technology for much of our flagship SaaS solution, MIMS.
MIMS' platform coordinates workflow, scheduling, and incident resolution in one integrated, easy to use application. Our solutions aim to eliminate inefficiencies in manual filing, which still dominates most companies' field operations!
Our AI algorithm in MIMS uses real-time analytics to optimise workflows, automate scheduling – all via an easy-to-use interface. It allocates the ideal technician/field worker to a given client based on location, timing, and equipment needs. This saves time in the front and back offices.
Processes streamlined by MIMS increase resource efficiency by 35% and improve response time by 60%.
Talk me through your AI and ML solutions.
MIMS platform algorithms automate scheduling and solve the complexities of building an optimised duty roster, allocating work to employees automatically by coverage areas, skills, and experience to achieve higher levels of productivity. Supported by a constant data stream, MIMS ML constantly analyses data and builds a knowledge database of the experience employees have performed their tasks, including types of work performed, locations visited, customer serviced, and adherence to KPIs.
MIMS also closely monitors Service Level Agreements during operations. MIMS automatically links timings of response, resolution, and arrival – to give a rapid, full picture of the situation on the ground.
MIMS Optimise is a powerful set of tools increasing operational productivity. Our Advanced Logic Automation Network (ALAN) manages a workflow's entire life cycle – from booking to task execution. Combining capacity planning, duty and work order allocation, and route optimisation, ALAN integrates Arrow Labs' various AI solutions.
Why do you think the Internet of Things and smart wearables are a clear opportunity to modernise and empower the deskless workforce?
The most important and revolutionary work device today is the computer – be it a laptop, a tablet, or a smartphone. Almost all workflow innovations have focused on making office workers' tasks more efficient.
This is partly due to white-collar workers being favoured by corporate investment, and also the lack of portable devices when the digital revolution began.
Smartphones have multiplied options to introduce digital solutions to fieldwork. We take this a step further with solutions designed for field workers using the latest innovation in IoT and smart wearables.
Workers can access our workflow management interface via their MIMS smartwatch, a device perfectly suited for field operations where even smartphone use may pose obstacles.
Smart wearables and the IoT have huge potential to finally expand digitisation's efficiency gains to the majority of workers. This benefits companies and helps workers to be more self-determined.
What's next for Arrow Labs?
Geographically, we are already global, but a major priority is growing further in the US.
After years of intensive R&D - testing and tailoring MIMS to become the most competitive workflow management solution of its type – we are expanding vertically. We know there is much-unsatisfied demand across various industries. For example, the mining sector would profit greatly from our solutions, enhancing productivity and basic worker security.
To date, the main industries we work in are telecommunications, oil and gas, facility management, and construction. Our clients include industrial, commercial, and government entities, with some huge names in the pipeline.
The future is looking good for Arrow Labs!