AI and the pandemic ‒ managing viruses with technology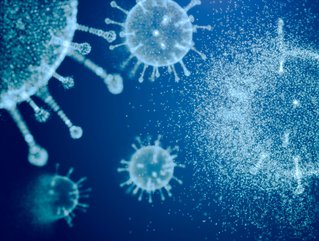 Coronavirus highlighted the importance of AI as it battled to manage the virus's peak. Here, Dell and IBM reflect on the biggest lessons learned
As the world battled against the COVID-19 pandemic, leaders, healthcare professionals and technologists all looked for solutions to combat the virus's spread to prevent its damaging effects.
Playing a pivotal role in the fight was artificial intelligence (AI). In the early stages of the crisis, AI was used to track the spread of the disease, helping to predict where the disease would develop next and how quickly it would spread. The technology was also used to monitor and analyse key trends, in addition to accelerating the development of test kits
Just one year after its outbreak, the World Health Organisation (WHO) released a report into the impact of AI in health, highlighting its importance and providing guidance for its design and use.
A key way to control and minimise virus outbreaks is early identification, followed closely by isolation and treatment. With AI, healthcare environments can improve their ability to model and predict where the disease might spread next. In the case of the COVID pandemic, AI-generated insights helped divert resources ‒ such as test kits and human resources ‒ to where they were needed most.
Now, as we finally emerge and AI has been cemented as a core technology of the fourth industrial revolution, many organisations are looking at the potential this technology has of building next-generation epidemic preparedness and how to move forwards driving a resilient recovery.
"Without AI, it would not have been possible to start testing vaccines in humans less than three months after the initial discovery of the outbreak in China and then roll out lifesaving treatments so quickly. AI also enabled virologists to model virus mutations, ensuring the evolution of effective countermeasures," comments Arash Ghazanfari, CTO at Dell Technologies.
"We can expect artificial intelligence to assist with more proactive containment of future outbreaks or, at the very least, dramatically shorten the duration of future pandemics," he continues.
Adding to this, AI-generated insights helped manage the response to COVID by providing analysts with the information to make better informed decisions. Dr Nicole Mather, Executive Partner, Life Sciences and Health Data at IBM, sheds light on how AI-generated insights have been effective and shares how Oxford University's Big Data Institute worked on AI in the fight against COVID: "IBM built an interface that allowed the BDI to crowdsource inputs from multiple organisations to refine their COVID-19 predictive model, which had been adapted from an existing Oxford HIV model. This model allowed policymakers to consider the impact of different policy levers and public behaviours on the transmission of COVID, including the use of the [UK's] NHS contact tracing app alerting citizens to the need to self-isolate."
Sound datasets for virus management
Just as the WHO outlines guiding principles for the use of AI in healthcare, it also warns of the risks and pitfalls that need to be fully addressed before AI can be confidently and consistently used to help manage the outbreak of viruses.
To ensure that AI and its software is equipped to deal with health crises efficiently, Ghazanfari stresses the importance of strong datasets: "High-quality data will lead to high-quality insights, resulting in high-quality treatment and better health outcomes. In the future, we can expect to proactively and continuously monitor our health and well-being by leveraging intelligent monitoring devices, software and data-driven healthcare, leading to early lifesaving preventative treatment. We can expect to see personalised, more affordable treatment options become widely available in the future."
"For example, Dell Technologies has collaborated with I2B2 tranSMART Foundation to develop an AI-enabled learning healthcare platform. We have developed a data-driven, purpose-built platform that delivers long-COVID sufferers better, faster, more personalised and affordable treatment options. The platform is designed to collect and analyse a wide variety of health data belonging to past patients," he adds.
With this high-quality data, Mather outlines how the technology can be applied to effectively combat any potential public health emergencies: "AI is particularly good at image analysis and identifying repetitive patterns, so it can be used effectively to accelerate the diagnosis of patients and act as a second pair of eyes for doctors, providing decision support alongside experienced clinicians. Algorithms can also be used in predictive analytics to suggest the causes of diseases and determine which patients are most likely to respond to treatments or deteriorate."
Reflecting on key lessons with the pandmeic and technology
As we emerge from the pandemic, it is imperative technologists, healthcare providers and policymakers recognise the crucial role this technology played in managing the virus and apply this in the future to lessen the impact of future virus outbreaks.
Highlighting the importance of information driven approaches to solving global challenges, COVID-19 has shown that tackling the digital divide is more essential than ever before if we want to cultivate a more resilient world.
Ghazanfari adds: "We have recognised that increasing trust and solidarity globally and improving transparency can accelerate the effectiveness of ethical applications of artificial intelligence in healthcare. By applying ethical frameworks around how patient data can be anonymised and leveraged, we can break down barriers to progress and move towards realising the full potential of technologies such as AI."
Echoing this, Mather reflects on how the impact of the pandemic has altered the way businesses and organisations approach situations and the positive knock-on effect this has had on the implementation of AI: "During the pandemic, we learned important lessons about how working across sectors and bringing different disciplines together can create impact and drive progress. The urgency and scale of COVID-19 made this collaboration a necessity. Academics, patients, charities, businesses, regulators and governments started working towards a common goal. This brought new ways of working ‒ agile prioritisation, user-led design, accelerated regulation, and a focus on process improvement. It led to a new understanding and respect for the priorities and expertise of other sectors."
She concludes: "What has become clear in this pandemic is that AI should be included among the suite of capabilities that allows us to plan and accelerate healthcare services in order to deliver the best impact for patients."