ACROLINX: AI-powered software for enterprise organisations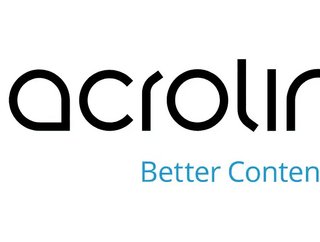 Aligning content creation with a B2B brand guidelines and content scoring
BizClik caught up with Content Specialist at Acrolinx, Kiana Minkie, who gave us a fascinating glimpse into the organisation's content improvement technology, which is already radically transforming some of the major players in the enterprise world. 
Who are Acrolinx and what do they do?
We're on a mission to supercharge the billions of enterprise content touchpoints. Acrolinx is an AI-powered software that improves the quality and effectiveness of enterprise content. Our vision is a world connected by amazing content.
What software are you using to do this?
Our content improvement technology helps enterprise organisations to improve the fitness and effectiveness of their content. The technology aligns the creation of content to a B2B brand's established guidelines — so all digital content reflects the correct tone of voice, product and legal terminology, inclusive language, emotional appeal and more.
And with our content scoring, writer guidance, automation, and analytics; Acrolinx's AI-powered software helps large enterprises deliver a smooth, satisfying, and cost-effective customer experience. Which is important in an increasingly competitive online environment, with countless brands vying for attention, providing positive and engaging customer experiences sets companies apart from their competitors.
How have you benefited personally from this software?
I'm a content specialist who creates a lot of B2B content, but I'm also someone who simply loves language and words. I'm constantly striving to be a better writer. Turns out, there's so much more to effective content than just good spelling and grammar! Acrolinx helps me keep my writing in top shape by guiding me to align it to our corporate writing standards for elements like tone of voice, clarity, and inclusive language. It also helps my boss feel confident that our team's content is consistent and compliant — so there are no surprises. Acrolinx customers depend on our company's deep knowledge about what makes enterprise content effective, inclusive, and findable. They know that by using our platform their content will power the best customer experience, across all digital touch points.
Okay, but aren't you worried that this AI software could effectively replace you?
Now, more than ever, people meet and engage with companies digitally. And it's content that creates connections online — making it the difference between providing just average, or even bad customer experiences, to providing incredible ones. So content is a major asset for every enterprise. Most companies don't consider content as an asset, but it's actually one of their biggest. It speaks on behalf of a brand, and it guides people through every stage of the customer journey. Although it might not end up on a balance sheet, content is the fuel that powers digital touchpoints and delivers business results. So it holds a lot of value. Just like anything of value, content requires care to keep it in good shape and performing well. Artificial Intelligence and Natural Language Processing help organisations monitor and improve the quality of their enterprise content — to help meet modern content standards for accessibility and inclusivity, and the accelerating demand for digital content. The need for organisations to deliver unified and effective experiences on their websites demonstrates the necessity for AI and NLP powered content improvement technology, to fuel alignment, efficiency, and compliance across their organisation.
Who are your biggest clients?
1. Poly
Poly is a leading provider of online communication equipment and services for both businesses and consumers. They needed a solution to scale the throughput of content from their technical writing team. With only one editor supporting a large global writing team, aligning writers to meet the corporate guidelines for tone-of-voice, terminology and style, had become a costly bottleneck for Poly. This was exacerbated even further after the Plantronics and Polycom merger where two different organisations now needed to align to become one unified voice. Acrolinx has become the foundation for Poly's writers to create better content, faster. Acrolinx has been able to provide objective fact driven guidance to writers to enable them to create aligned content which allows them to focus more on writing and less on the mechanical changes to their content. Writers are receiving guidance directly in their documents to make sure terminology is correct and that content is less complex and easier to read which improves the customer experience. Additionally as the team expanded to include overseas contractors, Acrolinx was able to expedite content creation for non-native language speakers by providing writers with easy to reference corporate style guidelines and instant feedback. With a new focused effort on using active voice, Acrolinx was used to identify 10's of thousands of passive voice issues through Poly's technical content. In less than a year, Poly has been able to effectively update over 75% of their documentation with the remaining pieces to be completed shortly.
"Making sure that we have good consistent optimised content, that's my job. And Acrolinx helps me do my job, and it's invaluable." - Rebecca Zmarzly.
2. Salesforce
Salesforce uses Acrolinx to implement inclusive language.
3. Avaloq
A global leader in B2B digital banking solutions, core banking software, and wealth management technology used by more than 140 banks worldwide (including Barclays, HSBC, and Societe Generale). In 2020, they implemented a content improvement technology to use AI to help their company achieve consistency across enterprise content and promote one clear brand voice.
What are your plans for the future?
In early 2022, we're revealing an extension to the Acrolinx Platform, called the Content Cube. The Content Cube from Acrolinx gives you a holistic view of your content's fitness and performance over time - with guidance on how to improve both. Content Fitness improves the value content provides for your organisation, while creating an aligned customer experience - from inquiry to purchase, implementation, and ongoing support. The Content Cube uncovers content that has the potential to impact business outcomes. It also calculates fitness scores and collects your performance data from your web analytics platform. Your business can view its performance through several lenses to understand which content improvements will have the greatest impact.
So how does this all work?
Marketers can quickly see correlations between content fitness and performance, identify unfit content, and prioritise pages with the highest potential for improvement.

The Content Cube intelligently identifies unfit and under-performing content and places it on a content update prioritisation list. You can easily share this list with the appropriate writing and editing teams so they can improve the content's fitness.

The Acrolinx Sidebar gives writers actionable feedback on the exact issues they need to address to improve content fitness. And thanks to more than 50 authoring integrations, writers can make the updates wherever they work.